News
Gun rights group plans protest at George Mason University - The State of NoVa. Posted at 09:10 AM ET, 10/13/2011 Oct 13, 2011 01:10 PM EDT TheWashingtonPost The Virginia Citizens Defense League will hold a demonstration this fall at George Mason University in Fairfax to protest rules that make it more difficult to carry firearms on campuses.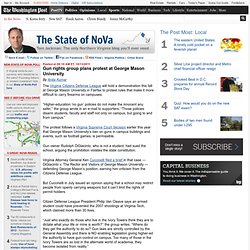 "Higher-education 'no gun' policies do not make the innocent any safer,'' the group wrote in an e-mail to supporters. "Those policies disarm students, faculty and staff not only on campus, but going to and from campus."
Election. Newspapers. Events, people, places that matter - tell us your news. Alltop, all the top stories. Hacker News.
---