Mobile
Barcode. How to optimize your blog for mobile devices. "How do I design my blog?"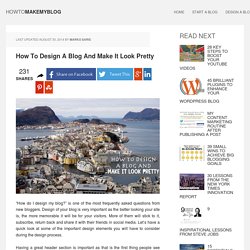 Is one of the most frequently asked questions from new bloggers. Design of your blog is very important as the better looking your site is, the more memorable it will be for your visitors. More of them will stick to it, subscribe, return back and share it with their friends in social media. Let's have a quick look at some of the important design elements you will have to consider during the design process. WPtouch iPhone Theme. WPtouch is a mobile plugin for WordPress that automatically enables a simple and elegant mobile theme for mobile visitors of your WordPress website.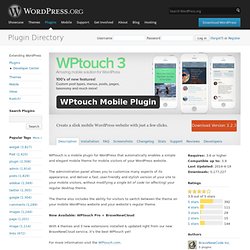 The administration panel allows you to customize many aspects of its appearance, and deliver a fast, user-friendly and stylish version of your site to your mobile visitors, without modifying a single bit of code (or affecting) your regular desktop theme. The theme also includes the ability for visitors to switch between the theme on your mobile WordPress website and your website's regular theme. Now Available: WPtouch Pro + BraveNewCloud With 4 themes and 3 new extensions installed & updated right from our new BraveNewCloud service, it's the best WPtouch yet! For more information visit the WPtouch.com. WPtouch: Mobile Plugin + Theme for WordPress ↔ BraveNewCode Inc. WordPress Mobile Pack. The WordPress Mobile Pack is a complete toolkit to help mobilize your WordPress site and blog.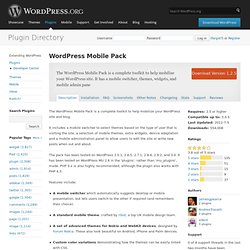 It includes a mobile switcher to select themes based on the type of user that is visiting the site, a selection of mobile themes, extra widgets, device adaptation and a mobile administration panel to allow users to edit the site or write new posts when out and about. The pack has been tested on WordPress 2.5.1, 2.6.5, 2.7.1, 2.8.6, 2.9.2, and 3.0. WordPress : Crowd Favorite. Lifestream Blog Now Optimized for Mobile Devices Courtesy of WP. A while back I had read about several WordPress plugins that offered the ability to customize the viewing of your site for mobile devices.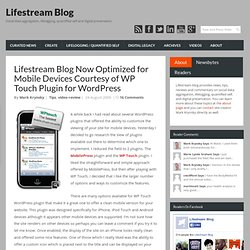 Yesterday I decided to go research the slew of plugins available out there to determine which one to implement. I reduced the field to 2 plugins. The MobilePress plugin and the WP Touch plugin. I liked the straightforward and simple approach offered by MobilePress, but then after playing with WP Touch, I decided that I like the larger number of options and ways to customize the features.
MobilePress - Enable The Mobile Web.
---