Google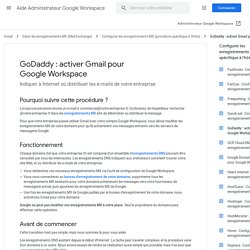 Configuring Your MX Records: GoDaddy.com - Google Apps Help
Si vous avez acheté votre nom de domaine auprès de GoDaddy lors de votre inscription à Google Apps, ces instructions ne vous concernent pas. Vous pouvez activer la messagerie électronique dans la console d'administration Google et Google configurera automatiquement vos enregistrements MX auprès de GoDaddy.com. Lorsque votre domaine est hébergé par GoDaddy, vous pouvez créer des enregistrements MX pour les serveurs de messagerie Google Apps de deux manières : Utilisez l'outil de configuration de GoDaddy pour créer automatiquement les enregistrements MX nécessaires. Connectez-vous à l'outil de configuration sur la page http://integrate.godaddy.com/google/gmail-domain.aspx.
Chrome since its launch has made a gradual and decent progress in adding new features, fixing bugs and improve performance. Once thing every chrome user is eager to see is the option of installing an extension. The wait is over; you can now install extensions on Chrome's latest dev built. The feature is still not included in the browser; users have to add a command line parameter to enable extensions on the latest built. It's simple, worry not! Currently there are 3 sample extensions available for installation,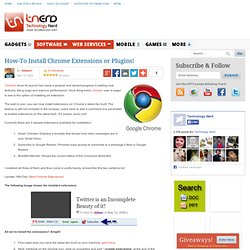 How-To Install Chrome Extensions or Plugins! || Technology Nerd
Blogger2Wordpress conversion utility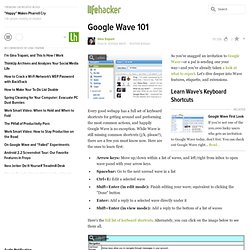 After listening to TWiG last weekend, and reading these tips, I'm still confused about one thing. Is it possible to make a read-only public wave? For example, a public wave contributed to only by say, ESPN, SI.com, and Fox Sports. It could be the their official group wave (or pool, which is kind of liquidy/wavy) for something like the Superbowl or a breaking news story. I'd love for there to be a wave I could go to and join (or subscribe to or whatever it will be called) just so there's one definitive place for the latest and most accurate news of something.
Cheat Sheet: Wave FAQ | Google Wave Blogger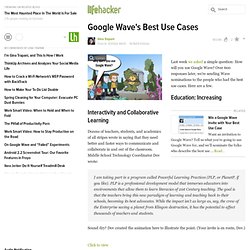 SExpand Last week we asked a simple question: How will you use Google Wave? Over 600 responses later, we're sending Wave nominations to the people who had the best use cases. Here are a few.
First grab the plugin wavr from Lucas Caro here or simply search for wavr in the plugin search of your blog's administration page. Big thanks to Ian Norris for helping me extract the wave ID from the URL. Translation thanks to Aunt-Rosie bot built by Andrew. Quick side note: I came across a promising new crowd sourced/filtering site: waverz. Worried about finding relevant and useful public waves? Let waverz gather the filtering results for you.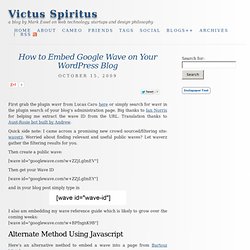 How to Embed Google Wave on Your Wordpress Blog
Google Analytics for WordPress MU - Sitewide AND single blog sol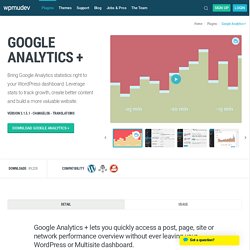 To install: Download the plugin fileUnzip the file into a folder on your hard driveUpload /google-analytics-async/ folder to /wp-content/plugins/ folder on your siteLogin to your admin panel for WordPress or Multisite and activate the plugin: On regular WordPress installs – visit Plugins and Activate the plugin.For WordPress Multisite installs – Activate it blog-by-blog (say if you wanted to make it a Supporter premium plugin), or visit Network Admin -> Plugins and Network Activate the plugin. Basic Usage: Go to Network Admin > Settings > Google Analytics and enter your Google Analytics tracking code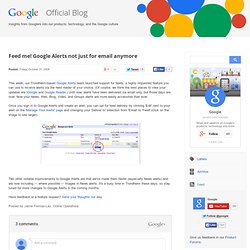 This week, our Trondheim-based Google Alerts team launched support for feeds, a highly requested feature you can use to receive alerts via the feed reader of your choice. (Of course, we think the best places to view your updates are iGoogle and Google Reader.) Until now, alerts have been delivered via email only, but those days are over. Now your News, Web, Blog, Video, and Groups alerts are more easily accessible than ever.
Feed me! Google Alerts not just for email anymore
Analytics Homepage