Google
Configuring Your MX Records: GoDaddy.com - Google Apps Help. Si adquiriste tu dominio en GoDaddy al registrarte en Google Apps, no utilices estas instrucciones.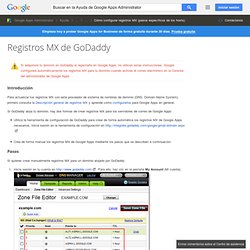 Google configurará automáticamente los registros MX para tu dominio cuando actives el correo electrónico en la Consola del administrador de Google Apps. Si GoDaddy aloja tu dominio, hay dos formas de crear registros MX para los servidores de correo de Google Apps: Utiliza la herramienta de configuración de GoDaddy para crear de forma automática los registros MX de Google Apps necesarios. Inicia sesión en la herramienta de configuración en. How-To Install Chrome Extensions or Plugins! || Technology Nerd. Chrome since its launch has made a gradual and decent progress in adding new features, fixing bugs and improve performance.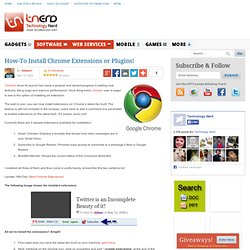 Once thing every chrome user is eager to see is the option of installing an extension. The wait is over; you can now install extensions on Chrome's latest dev built. The feature is still not included in the browser; users have to add a command line parameter to enable extensions on the latest built. It's simple, worry not! Currently there are 3 sample extensions available for installation, Blogger2Wordpress conversion utility. What are the keyboard shortcuts? - Google Wave Help. Google Wave 101 - Wave - Lifehacker. After listening to TWiG last weekend, and reading these tips, I'm still confused about one thing.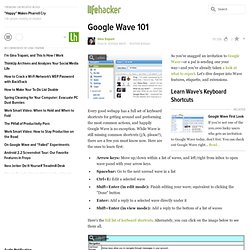 Is it possible to make a read-only public wave? For example, a public wave contributed to only by say, ESPN, SI.com, and Fox Sports. It could be the their official group wave (or pool, which is kind of liquidy/wavy) for something like the Superbowl or a breaking news story. I'd love for there to be a wave I could go to and join (or subscribe to or whatever it will be called) just so there's one definitive place for the latest and most accurate news of something. Cheat Sheet: Wave FAQ | Google Wave Blogger. Google Wave's Best Use Cases - Wave - Lifehacker. @arekkusu82: Realistically, Wave is just a new implementation of an old idea.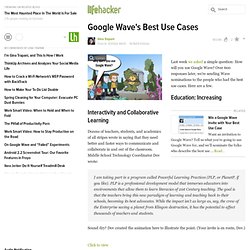 You can acheive much the same thing with SharePoint Discussion boards, or Microsoft Groove (which was developed by a different company before being gobbled up my Microsoft), or ShareFlow by zenbe. Wave is extensible, but so is SharePoint. Sure, the real time translation is pretty sweet, but all the "oooh, shiny" stuff in Wave are just features. How to Embed Google Wave on Your Wordpress Blog. First grab the plugin wavr from Lucas Caro here or simply search for wavr in the plugin search of your blog's administration page.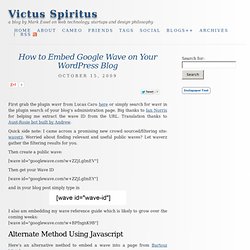 Big thanks to Ian Norris for helping me extract the wave ID from the URL. Translation thanks to Aunt-Rosie bot built by Andrew. Quick side note: I came across a promising new crowd sourced/filtering site: waverz. Worried about finding relevant and useful public waves? Let waverz gather the filtering results for you. Google Analytics for WordPress MU - Sitewide AND single blog sol.
Google analytics + puts all the important statistics at your WordPress fingertips by adding beautiful charts and graphs to your dashboard and the post edit screen.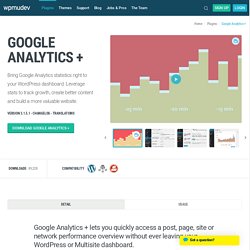 View statistics for an individual post, a site or even an entire multisite network without the need to leave your WordPress admin interface. A new one-click Google login process allows easy access to your analytics. Simply add a new account id in the network settings to start collecting data for your entire multisite network. Custom Search Engine - Site search and more. Feed me! Google Alerts not just for email anymore.
This week, our Trondheim-based Google Alerts team launched support for feeds, a highly requested feature you can use to receive alerts via the feed reader of your choice.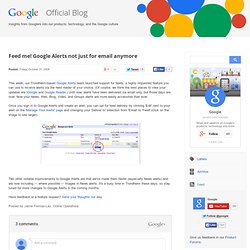 (Of course, we think the best places to view your updates are iGoogle and Google Reader.) Until now, alerts have been delivered via email only, but those days are over. Now your News, Web, Blog, Video, and Groups alerts are more easily accessible than ever. Analytics Homepage.
---