Google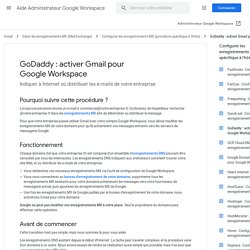 Configuring Your MX Records: GoDaddy.com - Google Apps Help
Si vous avez acheté votre nom de domaine auprès de GoDaddy lors de votre inscription à Google Apps, ces instructions ne vous concernent pas. Vous pouvez activer la messagerie électronique dans la console d'administration Google et Google configurera automatiquement vos enregistrements MX auprès de GoDaddy.com. Lorsque votre domaine est hébergé par GoDaddy, vous pouvez créer des enregistrements MX pour les serveurs de messagerie Google Apps de deux manières : Utilisez l'outil de configuration de GoDaddy pour créer automatiquement les enregistrements MX nécessaires. Connectez-vous à l'outil de configuration sur la page http://integrate.godaddy.com/google/gmail-domain.aspx.
Chrome since its launch has made a gradual and decent progress in adding new features, fixing bugs and improve performance. Once thing every chrome user is eager to see is the option of installing an extension.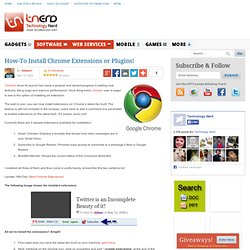 How-To Install Chrome Extensions or Plugins! || Technology Nerd
Blogger2Wordpress conversion utility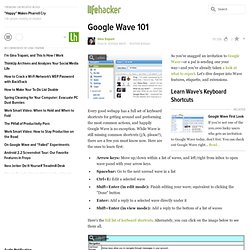 SExpand So you've snagged an invitation to Google Wave—or a pal is sending one your way—and you've already taken a look at what to expect.
Cheat Sheet: Wave FAQ | Google Wave Blogger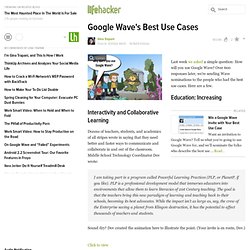 Google Wave's Best Use Cases - Wave - Lifehacker
SExpand
First grab the plugin wavr from Lucas Caro here or simply search for wavr in the plugin search of your blog's administration page. Big thanks to Ian Norris for helping me extract the wave ID from the URL.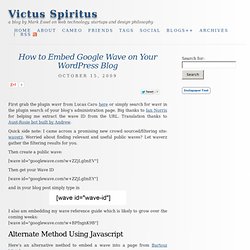 How to Embed Google Wave on Your Wordpress Blog
Google Analytics for WordPress MU - Sitewide AND single blog sol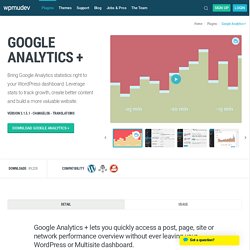 To install: Download the plugin fileUnzip the file into a folder on your hard driveUpload /google-analytics-async/ folder to /wp-content/plugins/ folder on your siteLogin to your admin panel for WordPress or Multisite and activate the plugin: On regular WordPress installs – visit Plugins and Activate the plugin.For WordPress Multisite installs – Activate it blog-by-blog (say if you wanted to make it a Supporter premium plugin), or visit Network Admin -> Plugins and Network Activate the plugin. Basic Usage: Go to Network Admin > Settings > Google Analytics and enter your Google Analytics tracking code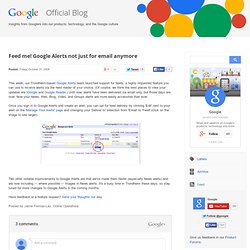 This week, our Trondheim-based Google Alerts team launched support for feeds, a highly requested feature you can use to receive alerts via the feed reader of your choice.
Feed me! Google Alerts not just for email anymore
Analytics Homepage