Friendfeed
Tornado Web Server. Auto Include Images in FriendFeed from Wordpress. 25 Different Uses For FriendFeed. By Mike Fruchter of MichaelFruchter.com (Twitter/FriendFeed) FriendFeed can be used for many different purposes.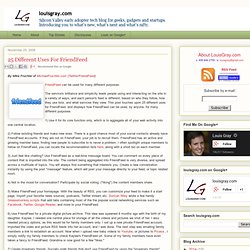 The service's brilliance and simplicity leads people using and interacting on the site in a variety of ways, and each person's feed is different, based on who they follow, how they use lists, and what services they view. This post touches upon 25 different uses for FriendFeed, and displays how FriendFeed can be used, by anyone, for many different purposes. 1) Use it for its core function only, which is to aggregate all of your web activity into one central location. 15 Secrets of FriendFeed's Power Users. By Daniel J.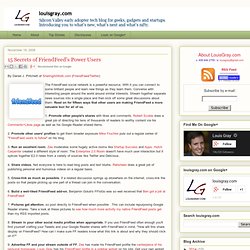 Pritchett of SharingAtWork.com (FriendFeed/Twitter) The FriendFeed social network is a powerful resource. With it you can connect to some brilliant people and learn new things as they learn them. Converse with interesting people around the world around similar interests. Stream together separate news sources into a single place and then kick off some great discussions about them.
---