Flickr
Galleries: Unleash your inner curator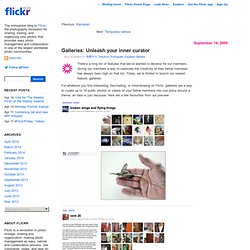 There's a long list of features that we've wanted to develop for our members. Giving our members a way to celebrate the creativity of their fellow members has always been high on that list. Today, we're thrilled to launch our newest feature: galleries. For whatever you find interesting, fascinating, or mind-blowing on Flickr, galleries are a way to curate up to 18 public photos or videos of your fellow members into one place around a theme, an idea or just because. Here are a few favourites from our preview: And, don't miss Contemporary Black & White Portraiture The Future Is Now, Half Sky, Half Water, tea, Heaven for Book People, beautiful fish, the blue hour.
TweetPress « </brandontreb.com>
the leading free stock photography site
Free Pictures
Major Performance Upgrade 10.19.11 One of the ongoing challenges we have been facing is slow response time for uncached queries. This has been due mainly to trying to sort the results we send back, which often number in the many tens of thousands or more. As of today we have a... Celebrity Images from Image Collect 08.23.11 Everystockphoto's growing collection of freely licensed photos does not do very well in the celebrity images category.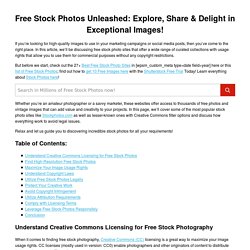 Pixelpipe - Your uploads
Flickrshow – Simple Javascript Slideshows