Feed
Simplepie. Traffic. J-Startup News. 10 Ways to Maximize Your Google Reader Link Blog. I've been sharing articles I've read in Google Reader for the better part of two years.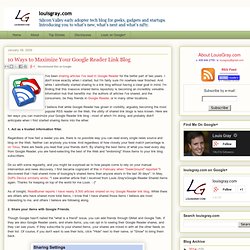 I don't know exactly when I started, but I'm fairly sure I'm nowhere near finished. And while I admittedly started sharing to a link blog without having a clear goal in mind, I'm finding that this massive shared items repository is becoming an incredibly versatile information hub that benefits me, the authors of articles I've shared, and the consumers, be they friends in Google Reader, or in many other locations. I believe that while Google Reader has grown in visibility, arguably becoming the most popular RSS reader on the Web, the utility of shared link blogs is less known. Here are ten ways you can maximize your Google Reader link blog - most of which I'm doing, and probably didn't anticipate when I first started sharing items into the ether. 1. HOW TO: Use Google Reader Like A Rockstar. Google Reader recently got a facelift; with a fresh look and features, a lot of people are buzzing about the service.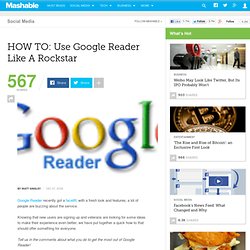 Knowing that new users are signing up and veterans are looking for some ideas to make their experience even better, we have put together a quick how-to that should offer something for everyone. Tell us in the comments about what you do to get the most out of Google Reader! Drupal. Feed Icons - Home of the Standard Web Feed Icon. 30 Free Vector RSS Icons. Bored with the good old orange RSS button?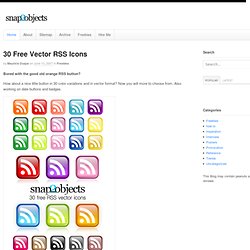 How about a nice little button in 30 color variations and in vector format? Now you will more to choose from. Also working on date buttons and badges. Advertisemt. 40+ Really Cool RSS Feed Icons | Free Icons. About 5 months ago, we brought you an ultimate list for RSS Icons. 5 months later, a number of great free RSS icons flushed the Internet and the ultimate list just wasn't too ultimate anymore.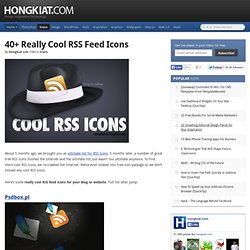 To find more cool RSS icons, we re-crawled the Internet. We've even looked into free icon package so we don't missed any cool RSS icons. Here's some really cool RSS feed icons for your blog or website. Full list after jump. Psdbox.pl. Get the Code To Run on Your Own Server. Get the Code To Run on Your Own Server This information is for web site owners that would like to incorporate our Feed2JS technology on their own site- perhaps to customize it, or just to speed up the access if they feel like a local copy is better.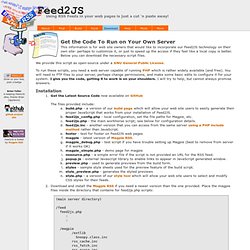 Below you can download the necessary script files. Blog: Simple Update Protocol: Fetch updates from feeds faster. When you add a web site like Flickr or Google Reader to FriendFeed, FriendFeed's servers constantly download your feed from the service to get your updates as quickly as possible.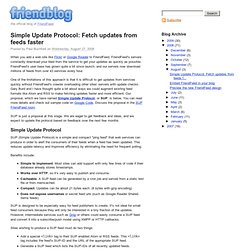 FriendFeed's user base has grown quite a bit since launch, and our servers now download millions of feeds from over 43 services every hour. One of the limitations of this approach is that it is difficult to get updates from services quickly without FriendFeed's crawler overloading other sites' servers with update checks. FeedBurner Help Center - Using and customizing BuzzBoost appeara. Creating Your BuzzBoost Code Snippet To use BuzzBoost, navigate to the Publicize tab for your feed and select the BuzzBoost service from the menu on the left.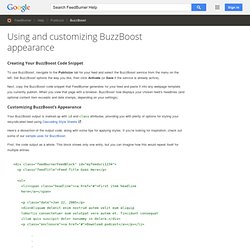 Set BuzzBoost options the way you like, then click Activate (or Save if the service is already active). Next, copy the BuzzBoost code snippet that FeedBurner generates for your feed and paste it into any webpage template you currently publish. When you view that page with a browser, BuzzBoost now displays your chosen feed's headlines (and optional content item excerpts and date stamps, depending on your settings). FeedBurner Help Center - Common BuzzBoost Styling Tricks. We've gotten a fair number of requests for similar styling effects with BuzzBoost, and it's high time we finally summarized some of the basic CSS techniques required to achieve these effects.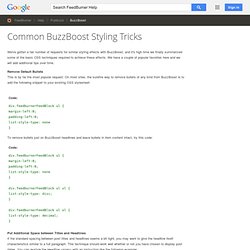 We have a couple of popular favorites here and we will add additional tips over time. Remove Default Bullets This is by far the most popular request. On most sites, the surefire way to remove bullets of any kind from BuzzBoost is to add the following snippet to your existing CSS stylesheet: To remove bullets just on BuzzBoost headlines and leave bullets in item content intact, try this code: BuzzBoost Sample Applications. With the ability to republish your feed as HTML, the possibilities are endless.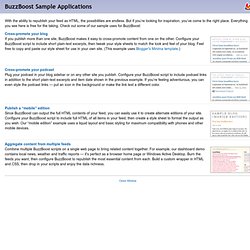 But if you're looking for inspiration, you've come to the right place. Everything you see here is free for the taking. Check out some of our sample uses for BuzzBoost: Cross-promote your blog If you publish more than one site, BuzzBoost makes it easy to cross-promote content from one on the other. Feeds. WordPress Feeds Languages: English • 日本語 • 한국어 • Português do Brasil • (Add your language) Introduction to Feeds.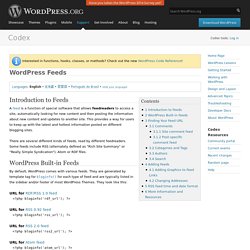 Feed.Informer Relaunches Its All-in-one RSS Toolbox - ReadWriteW. There is an infinite variety of things you can do with RSS feeds and a substantial number of those things can be done with Feed.Informer, which was formerly known as Feed Digest and just relaunched today. This super useful service was acquired in a small, unreported deal earlier this year and today comes out of a dormant period when new account creation was limited. What can you do with Feed.Informer? You can splice feeds together, filter them for keywords and most importantly - display them dynamically on a web page with just a little bit of code. There are other services that do all of these things, but Feed.Informer is so quick and easy to use that a free account is worth checking out and a premium account may be worth paying for.
We Love Feed.Informer. Read what matters - AideRSS. Rewire the web. 360. Documentation: Sort multiple feeds by time and date. In SimplePie 1.0, we simplified the process of merging together multiple feeds, sorting them by date, and displaying them. This method allows you to do all of the normal SimplePie stuff without requiring you to do any array hacking or anything. There are, however, two things to keep in mind about merging multiple feeds: When you mash multiple feeds together, how do you know which feed title or favicon to use? You don't. ReadBurner - See What's Shared on the Web. FriendFeed Friday Tips #7: Who Are These People, Anyway? By popular demand, I've been asked by other FriendFeed users to highlight how I use the popular social lifestreaming site. So far the series has covered the "Hide" function, the bookmarklet, advanced search, how to integrate with Google Talk, how you can incorporate comments and determine an item's original source.
Today, figuring out who you're engaging with on the service. So far, unlike most social networks out there, FriendFeed doesn't utilize a person's profile as the central nervous system around which the service is built. There's no way to post my location, my age, my job title, my birthday, my religion, or marital status. For some, this is surely a blessing. PHP5 Simple XML.
Use Custom Tags to Aggregate RSS Feeds into JSP-Based Web Apps [ With the abundance of news and blog (Weblog) sites growing continuously, keeping track of what's going on can be a daunting task. Fortunately, standards such as RSS (Really Simple Syndication) provide an easy way to grab content from a particular site and aggregate it into a news reader application. This means that, rather than looking for news yourself, your news reader monitors sites that you're interested in and downloads new content as it's published. This is a great model and many people have taken the concept to the Web by aggregating other content on their own Websites and offering aggregation services via the Web. In this article, I'll show you how to use JSP custom tags to implement this type of functionality as a reusable component within your own JSP-based Web applications. RSS tutorial: building and using a feed, step by step. Building and Using an RSS Feed by Denis Sureau What is RSS?
It is a format to share data, defined in the 1.0 version of XML. You can deliver information in this format et one can get this information, and information from other various sources, in this format. Information provided by a website in an XML file is called an RSS feed. Sorting RSS-feed by date using XSLT | Dmytro Shteflyuk's Ho. My Feeds. Magpie RSS Links: Further Information and Examples. Magpie RSS - PHP RSS Parser. List of News Aggregators. ReBlog by Eyebeam R&D. Reblog.
---