drupal 2
Get flash to fully experience Pearltrees
Views 3 is the newest major revision of Views. Views 3 retains all of the core functionality of Views 2, retaining the Views 2 interface (Views 3 for 7.x has a brand new interface).
In my recent Boston Drupaltherapy workshop I got stuck on an in-class example of how to convert a well-formed HTML template into a Drupal 6 theme. I was showing this off as an example for how new Drupal users could attack themeing in a lightweigh way by using an HTML template as a starting point.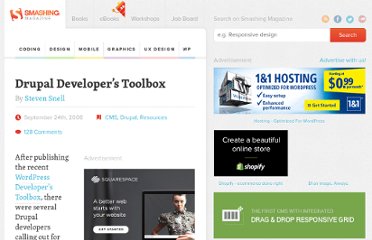 After publishing the recent WordPress Developer's Toolbox , there were several Drupal developers calling out for equal coverage. In this post you will find a thorough collection of all kinds of resources that will aid designers and developers working with Drupal-powered websites. This collection is intended to simplify your tasks and save you time when working with Drupal. This post covers essential resources related to Drupal — the basics, modules, Drupal design inspiration, Drupal themes, tutorials, starter themes, blog editors and Drupal-projects. 1.
Lets users "draw" shapes on top of images with canvas & Jquery UI, and save the result as an image node.
If you just want to add Flash content to nodes without having to worry about writing any HTML or PHP then this module is for you! Create a flash node, upload an swf file, and hit submit, and you have flash on your site.
Note: This module is being merged into the Mediafront Module . The Drupal 7 version of MediaFront will have the Dash media player included in the module download. For Drupal 6 users, there will be an update to this module in soon time that will add the Dash media player within the Mediafront module.
This is a wrapper for the jQuery Media plug-in.
Description