Collaboration
Homepage | Socialwok
Tinychat - Free Chat Room audio video conference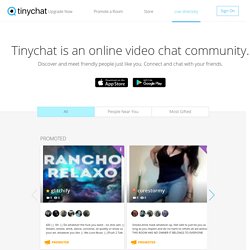 Get The App iPhone or Android? Live Directory
This is a guest post from esteemed presentations and speaking expert Olivia Mitchell. People used to whisper to each other or pass hand-scribbled notes during presentations. Now these notes are going digital on Twitter or via conference-provided chat rooms.
How to Present While People are Twittering | Pistachio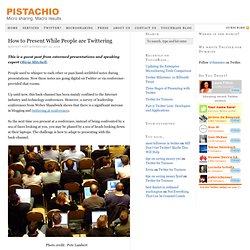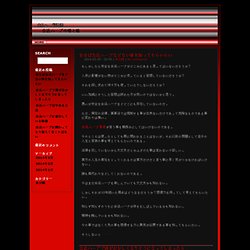 もしかしたら安全な合法ハーブがどこかにあると思ってはいないだろうか? 人体に影響がない物がどこかに売っていると妄想していないだろうか? それを探し求めて何十万も使っていたりしないだろうか? いい加減にそうした妄想は辞めた方が良いのではないかと思う。 悪いが安全な合法ハーブなどどこにも存在していないのだ。 ただ、現在の法律、薬事法では規制する事が出来ないだけであって危険なものである事に変わりは無い。
RJI News Collaboratory
BeatBlogging.Org - pushing the practice of beat reporting
Bloglines, Collected, Dave Winer, Feedly, Fever, Gogle Reader, LazyFeed, PostRank, River2, RSS, RSS readers RSS readers reviewed After talking to beat reporters about how they use RSS to research and report their beats, it seemed appropriate to go a step further and look at some of the technical how. No, I'm not going to try to explain how a feed is tracked in terms my mother would understand. Instead, let's look at some different RSS readers and some more recent players in RSS-land.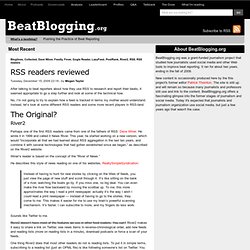 Online Mind Mapping - MindMeister
EtherPad is not likely to win a prize for its user interface design, but it may just be one of the most useful web apps we have seen in quite a while. EtherPad allows you to instantly create a workspace for text documents that you can then share with your colleagues, clients, or friends. Every edit to the document will immediately appear on your co-workers' screens in real-time. EtherPad acknowledges that Google Docs already allows for a similar kind of collaboration, but compared to EtherPad, Google Docs is clunky and slow when you just want to collaborate on a simple text document. Editor's note: Looking back over 2008, there were some posts on ReadWriteWeb that did not get the attention we felt they deserved - whether because of timing, competing news stories, etc. So in this end-of-year series, called Redux, we're resurrecting some of those hidden gems.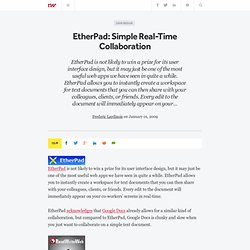 EtherPad: Simple Real-Time Collaboration - ReadWriteWeb
100+ More Ways to Organize Your Life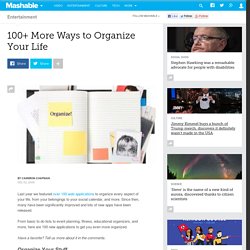 Last year we featured over 100 web applications to organize every aspect of your life, from your belongings to your social calendar, and more. Since then, many have been significantly improved and lots of new apps have been released. From basic to do lists to event planning, fitness, educational organizers, and more, here are 100 new applications to get you even more organized.
bit.ly, a simple url shortener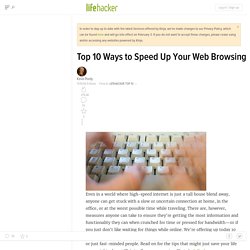 SExpand Even in a world where high-speed internet is just a tall house blend away, anyone can get stuck with a slow or uncertain connection at home, in the office, or at the worst possible time while traveling. There are, however, measures anyone can take to ensure they're getting the most information and functionality they can when crunched for time or pressed for bandwidth—or if you just don't like waiting for things while online. We're offering up today 10 tweaks, downloads, and work-arounds for slow connections, slow computers, or just fast-minded people.
Top 10: Top 10 Ways to Speed Up Your Web Browsing
Intranet, Group Calendar, Small Business Organizer: Backpack
Current Backpack customers can sign in here. Hello, We launched Backpack back in 2005 so people could "keep life's loose ends together" in one place online. Since then, hundreds of thousands of people have kept millions of loose ends safe in their online Backpacks. However, because we haven't given Backpack much attention in the last few years, and as part of refocusing our efforts on a slimmer product line, we've decided to no longer offer Backpack to new customers. Existing customers will be able to continue using Backpack as they always have.