Raw USA Economic Data
ETA Press Release: Unemployment Insurance Weekly Claims Report. ADVANCE MONTHLY SALES FOR RETAIL AND FOOD SERVICES: Latest Relea. Consumer Price Index (CPI) The Consumer Price Indexes (CPI) program produces monthly data on changes in the prices paid by urban consumers for a representative basket of goods and services.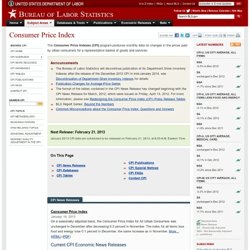 Consumer Price Index March 15, 2013 On a seasonally adjusted basis, the Consumer Price Index for All Urban Consumers increased 0.7 percent in February after being unchanged in January. The index for all items less food and energy rose 0.2 percent in February after rising 0.3 percent in January. The Conference Board - Trusted Insights for Business Worldwide. Institute for Supply Management - Home Page. Data.gov. Federal Budget Spending and the National Debt. New Residential Construction Index. Databases, Tables & Calculators by Subject.
About the Tools Allows users to quickly retrieve BLS time series data from lists of those most commonly requested.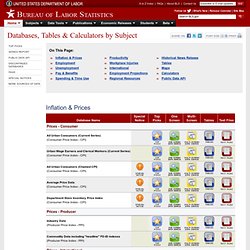 This application requires a Java-enabled browser. Choose the data you want from BLS databases on a simple, one-screen form. A form-based query application which allows you to obtain BLS time series data based on choices you make. US Census Bureau Manufacturers' Shipments, Inventories, and Orde. This Javascript allows the page in IE to resize to the minimum width of 853 pixels and no less.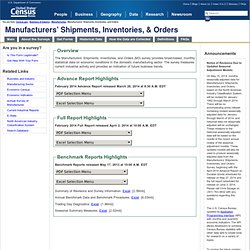 You are here: Census.gov › Business & Industry › Manufacturing › Manufacturers' Shipments, Inventories, and Orders Skip top of page navigation. Board of Governors of the Federal Reserve System. St. Louis Fed: Economic Data - FRED® More Services Events Information on conferences, seminars, and workshops sponsered by the Research Division. 8th District Economy Find economic data and reports on economic conditions in the Federal Reserve's Eighth District.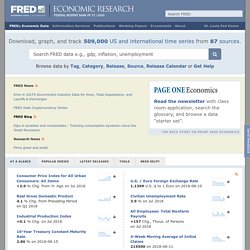 Industrial Production and Capacity Utilization. Release Date: March 17, 2014 Industrial production increased 0.6 percent in February after having declined 0.2 percent in January.
In February, manufacturing output rose 0.8 percent and nearly reversed its decline of 0.9 percent in January, which resulted, in part, from extreme weather. The gain in factory production in February was the largest since last August. Finance. Boston Globe - 2 hours ago Continue reading below.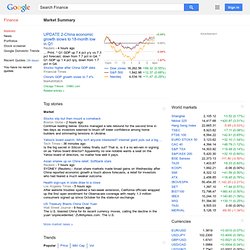 Stocks managed a late rebound for the second time in two days as investors seemed to brush off lower confidence among home builders and simmering tensions in Ukraine. Tech Times - 36 minutes ago Is the big secret in Silicon Valley finally out? Foreign Trade - MAIN. Yahoo! Finance - Business Finance, Stock Market, Quotes, News. BigCharts: Stock Charts, Screeners, Interactive Charting and Res. U.S. Bureau of Economic Analysis (BEA) - bea.gov Home Page.
---