Japanese Culture
Full Anime Series List
nicomimi -にこみみ- ニコニコ動画mp3変換サービス
Chanpon
Probably because many of my US-based friends are academics and technologists, many of them visit Tokyo as part of their professional circuit. I often get requests for recommendations for places to stay and visit while in Tokyo. Usually these requests are coming from busy people who are travelling primarily for business meetings or to give a talk, and might have one or two days free to explore the city. Over the years, I've composed many emails to my friends with somewhat lame attempts to recommend the best places to go.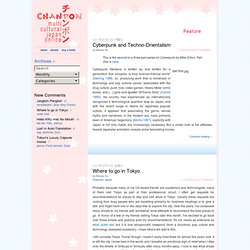 Russian political cartoon: Putin & the slant-eyed Japanese A Russian-speaking friend let me know about the following political cartoon by Sergey Elkin, which has appeared on the popular news site Polut.ru: President Vladimir Putin is shown trying to grab Crimea, while off to the side a couple racial caricatures of Japanese people are standing by the Kuril Islands (known as the "Northern Territories" in Japan). The conflict in Crimea puts Japan is a tricky situation. On the one hand, Japan's postwar governments have always stood against the idea of seizing territory by force, and overlooking Russian aggression towards the Ukraine could set a bad precedent when Japan is facing the possibility of territorial aggression from China. But, on the other hand, the Abe administration wants to improve its relationship with Russia with the hopes of getting back the Northern Territories.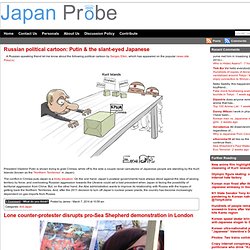 Japan Probe
2013: A New Hope / W. David MARX This website shall reward no high fives to Prime Minister Abe Shinzō (especially after his Yasukuni visit), but we will admit that the Abe Regime Redux successfully implanted a hypnotic suggestion, both in Japan and overseas, that the Japanese economy may be heading towards its long-awaited recovery. Looky, looky — the Nikkei cracked 16,000!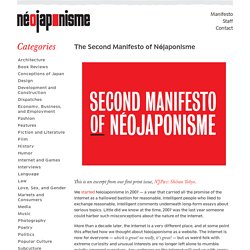 Néojaponisme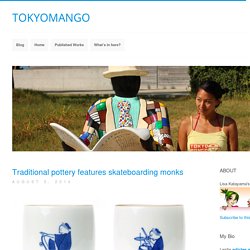 One Sunday afternoon more than seven years ago, I decided to start a blog. Because I am from Tokyo and I love to eat mangoes, I called it TokyoMango. There was nothing well thought out or profound about the title of the blog or the intention for it.
TOKYOMANGO
Japan Video Topics | Trends in Japan
Mixi, réseau social japonais
AJATT: All Japanese All The Time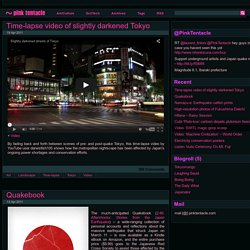 In November 1855, the Great Ansei Earthquake struck the city of Edo (now Tokyo), claiming 7,000 lives and inflicting widespread damage. Within days, a new type of color woodblock print known as namazu-e (lit. "catfish pictures") became popular among the residents of the shaken city.
Pink Tentacle
NIPPONIA