Wordpress
Les 10 meilleurs plugins pour CMS de WordPress. Blueprint Design Studio, une société qui crée des sites web à partir de WordPress vient de publier un article intitulé Top 10 WordPress CMS Plugins et je l'ai trouvé vraiment intéressant et méritant cette traduction : Pour des sites de taille modeste (en incluant des sites de e-commerce simples), WordPress rend de bons services en tant que CMS, rendant facile la maintenance du site et le mise à jour de son contenu.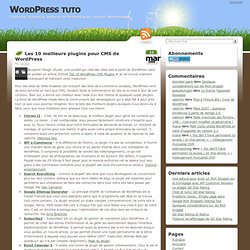 Bien sur, il donne son meilleur avec l'aide d'un bon thème et quelques super plugins. How to edit Wordpress themes using Dreamweaver. It has been more than a year since I used Dreamweaver to design a site.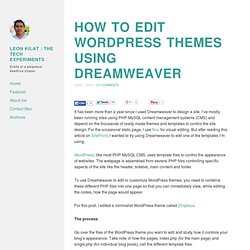 I've mostly been running sites using PHP-MySQL content management systems (CMS) and depend on the thousands of ready-made themes and templates to control the site design. For the occasional static page, I use Nvu for visual editing. Vivre du Web " Modifier le thème d'un site WordPress a. §.
---