Wordpress
Les 10 meilleurs plugins pour CMS de WordPress
Passer de Dotclear 1.2 à WordPress 2.1 - 64k
Ah Dotclear… C'était en octobre 2003. J'entendais de plus en plus souvent parler des blogs. J'ai donc tout naturellement testé Dotclear. J'étais tellement emballé que j'ai acheté un nom de domaine (64k.be) et j'ai installé ce moteur de blog.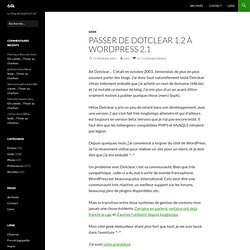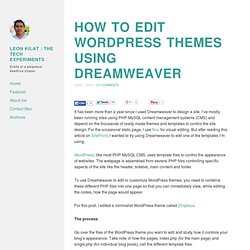 How to edit Wordpress themes using Dreamweaver
It has been more than a year since I used Dreamweaver to design a site. I've mostly been running sites using PHP-MySQL content management systems (CMS) and depend on the thousands of ready-made themes and templates to control the site design. For the occasional static page, I use Nvu for visual editing.
Vivre du Web " Modifier le thème d'un site WordPress a
http://www.wpthemesfree.com/