Facebook
ROI et présence sur les médias sociaux, outils d'évaluation | Et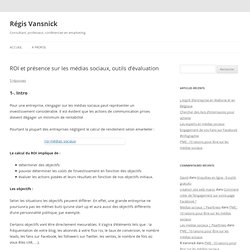 1-. Intro Pour une entreprise, s'engager sur les médias sociaux peut représenter un investissement considérable.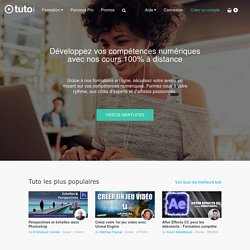 , personnellement je ne suis pas trop fan. Je ne vais jamais sur ma ni sur celle de mes "amis". Je suis plus . Pourtant, la conférence de au salon ecommerce sur l' , m'a convaincu que la pouvait, en étant bien utilisée, devenir . La page Fan de Tuto.com existe depuis quelques mois déjà, mais personne en interne ne l'utilisait, et nous n'en avions jamais fait la promotion. Conséquence: pas beaucoup de fans, une page sans vie, sans interaction: bref la absolue, autant fermer définitivement boutique!
Page Fan de Facebook - tuto, tutorial, vidéo, Photoshop, After E
» Comment intégrer un onglet d'accueil à sa page Facebook ?
// Mise à jour juillet 2011 >> Remarque importante : depuis quelques mois déjà, Facebook ne permet plus l'ajout de l'application Static FBML décrite ci-dessous. Si celle-ci a déjà été ajoutée à votre page, elle reste active et ce tutoriel est toujours d'actualité; dans le cas contraire, vous devez désormais créer votre propre application. Nouveau tutoriel à venir prochainement ! // Vous pouvez aussi nous contacter pour toute intégration. Nous avons longtemps hésité avant de vous livrer ce tutoriel, certaines agences facturant 300 à 500 euros l'intégration de cet onglet, alors même qu'il suffit d'ajouter une application existante à sa page Facebook (intégration possible exclusivement sur une page, aussi appelée « profil public »). Partant du principe que cet onglet est un vrai plus pour optimiser le développement d'une communauté sur Facebook et que les petits secrets tel que celui-ci ne durent pas, nous vous le livrons avec plaisir.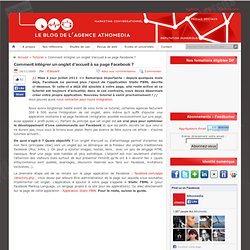 5 Ways To Instantly Boost Your Facebook Page Traffic
30+ Apps for Doing Business on Facebook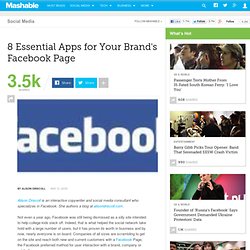 Alison Driscoll is an interactive copywriter and social media consultant who specializes in . She authors a blog at alisondriscoll.com . Not even a year ago, Facebook was still being dismissed as a silly site intended to help college kids slack off. Indeed, that is what helped the social network take hold with a large number of users, but it has proven its worth in business and by now, nearly everyone is on board. Companies of all sizes are scrambling to get on the site and reach both new and current customers with a Facebook Page, the Facebook preferred method for user interaction with a brand, company or public figure. An effective Facebook Page not only attracts fans, but is sticky so that fans keep coming back and may even share the content on the Page.
Depuis 2 mois, je teste pour Webmarketing & co'm la communication sur Facebook via groupe et page fan. Ne sachant pas au départ quel était le meilleur choix j'avais testé ces deux formes. Après cette période de test, les choses sont désormais plus claires, je vous propose un retour d'expérience… Mise à jour Juillet 2010 : 5 façons de promouvoir sa page fan Facebook gratuitement . Jusqu'à il y-a encore quelques mois, je ne m'étais jamais vraiment intéressé à la promotion en ligne via Facebook.
Facebook : Page fan ou groupe, quel est le meilleur choix ...