Snacks/Drinks
Homemade Eggnog. I have been making this granola recipe for over five years.
You know a recipe is gold when you keep going back to it after trying many others. Sure, it's fun to try new recipes and flavors. But somehow I always return to this tried and true granola. It really can't be beat for its simple, hearty, wonderful flavor. Instant coffee recipes: Hot Drinks. Hot Spinach and Artichoke Dip. It seems that I may be a little addicted to hot cheesy dips.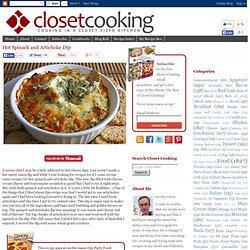 Last week I made a hot sweet onion dip and while I was looking for recipes for it I came across some recipes for hot spinach and artichoke dip. This new dip filled with cheese, cream cheese and mayonnaise sounded so good that I had to try it right away. But, with both spinach and artichokes in it, it is just a little bit healthier. ;) One of the things that I liked about this recipe was that I would get to use artichokes again and I had been looking forward to doing so. The last time I used fresh artichokes and this time I got to try canned ones.
This dip is super easy to make; you just mix all of the ingredients and bake until bubbling and golden brown on top. Halloween Jello Shots. Strawberry Margarita Jell-O Shots. When thinking of Super Bowl foods strawberries don't usually make the cut.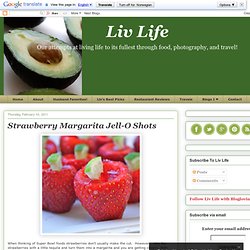 However... mix the strawberries with a little tequila and turn them into a margarita and you are getting closer! With our sunny Citrus Blush already mixed and in the pitcher we weren't really in need of another cocktail, but when I came across these cute little shots I couldn't resist putting them on my Super Bowl Extravaganza Table. Skittles Vodka. Vodka-infused Gummi Bears.
---