Dinner
Hearty Chicken Pot Pie Recipe from Betty Crocker. Macaroni circa 1870. Original Recipe: MACARONI.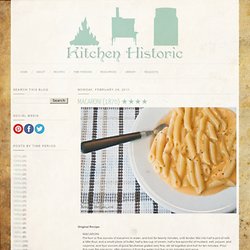 Put four or five ounces of macaroni in water, and boil for twenty minutes, until tender. Mix into half a pint of milk a little flour, and a small piece of butter, half a tea-cup of cream, half a tea-spoonful of mustard, salt, pepper, and cayenne, and four ounces of good fat cheese grated very fine; stir all together and boil for ten minutes. Pour this over the macaroni, after draining it from the water boil five or six minutes and serve. The Verdict: We decided to double the recipe, because five ounces of pasta didn't seem like enough for my hungry man. White Cheddar Chicken Pasta. Do you stand in front of your closet thinking I have nothing to wear even though its full of clothes?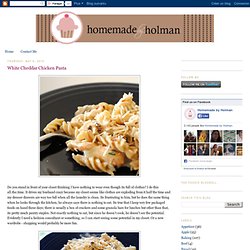 I do this all.the.time. It drives my husband crazy because my closet seems like clothes are exploding from it half the time and my dresser drawers are way too full when all the laundry is clean. Favorite Biscuits. Good morning!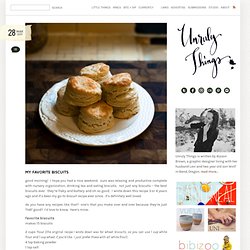 I hope you had a nice weekend. ours was relaxing and productive complete with nursery organization, drinking tea and eating biscuits. not just any biscuits – the best biscuits ever. they're flaky and buttery and oh so good. I wrote down this recipe 3 or 4 years ago and it's been my go-to biscuit recipe ever since. it's definitely well loved. do you have any recipes like that? One's that you make over and over because they're just THAT good? I'd love to know. here's mine: Spinach Lasagna Roll-Ups. Pesto Stuffed Shells. It should be obvious by now that I love to stuff things (Pepperoni Stuffed Chicken, Cranberry Walnut Stuffed Pork Loin, Stuffed Poblano Peppers).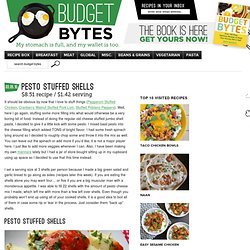 Well, here I go again, stuffing some more filling into what would otherwise be a very boring bit of food. Instead of doing the regular old cheese stuffed jumbo shell pasta, I decided to give it a little kick with some pesto. I mixed basil pesto into the cheese filling which added TONS of bright flavor. I had some fresh spinach lying around so I decided to roughly chop some and throw it into the mix as well. You can leave out the spinach or add more if you'd like; it is not a major player here, I just like to add more veggies whenever I can. Spinach Pesto Grilled Cheese Sandwich. Earlier on in the week, when I made the spinach, or spanakopita pesto pasta I made sure to keep some of the pesto left over for something new.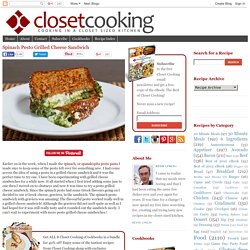 I had come across the idea of using a pesto in a grilled cheese sandwich and it was the perfect time to try one. I have been experimenting with grilled cheese sandwiches for a while now. It all started when I first tried adding some jam to one then I moved on to chutneys and now it was time to try a pesto grilled cheese sandwich. Mozzarella Sticks. When I told my friends I was planning on making homemade mozzarella sticks for a guy's weekend out of town the idea was met with a profound lack of enthusiasm.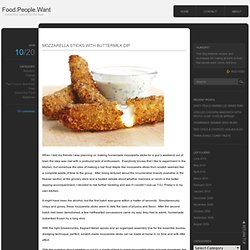 Everybody knows that I like to experiment in the kitchen, but somehow the idea of making a bar food staple like mozzarella sticks from scratch seemed like a complete waste of time to the group. After being lectured about the innumerable brands available in the freezer section at the grocery store and a heated debate about whether marinara or ranch is the better dipping accompaniment, I decided to risk further heckling and see if I couldn't one-up T.G.I. Easy Parmesan Knots. This recipe will got great with the Mama Mia's Minestrone from yesterday or any other great Italian meal.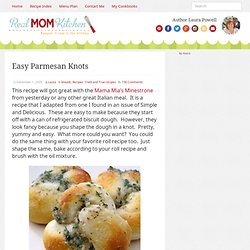 It is a recipe that I adapted from one I found in an issue of Simple and Delicious. These are easy to make because they start off with a can of refrigerated biscuit dough. However, they look fancy because you shape the dough in a knot. Pretty, yummy and easy. Pasta with Spinach and Ricotta Cheese. Oh my goodness, Oh my goodness.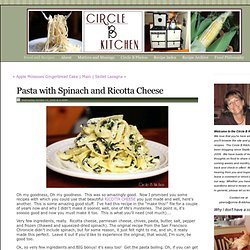 This was so amazingly good. Now I promised you some recipes with which you could use that beautiful RICOTTA CHEESE you just made and well, here's another. This is some amazing good stuff. Real Fettuccine Alfredo. Fettuccine Alfredo is one of Italy's most wondrous exports.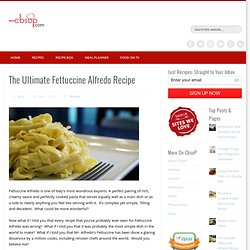 A perfect pairing of rich, creamy sauce and perfectly cooked pasta that serves equally well as a main dish or as a side to nearly anything you feel like serving with it. It's complex yet simple, filling and decadent. What could be more wonderful? Now what if I told you that every recipe that you've probably ever seen for Fettuccine Alfredo was wrong? What if I told you that it was probably the most simple dish in the world to make? 15 Minute Creamy Avocado Pasta. Oh…my….gosh.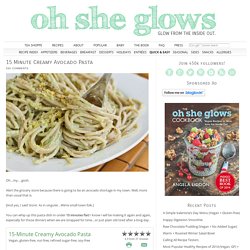 Alert the grocery store because there is going to be an avocado shortage in my town. Well, more than usual that is. Lemon Garlic Spaghetti. This meatless Monday thing, I'm getting the hang of it. Don doesn't like the idea of meatless Mondays (Boys. They like meat). Crash Hot Potatoes.
I love looking at food blogs and getting inspired to make new things. I was looking at the Pioneer Woman Cooks website the other day and I saw a recipe called "Crash Hot Potatoes". They were created by an Australian food writer named Jill Dupleix. I love the Pioneer Woman, she has a witty and wonderful website full of great recipes & stories. She also gives you step by step photos of the recipe. Check out her website through the link above – you'll love it. Hasselback Potatoes. These Hasselback potatoes looks beautiful, don't' they? Here, I also added several cloves of garlic to these Swedish version of baked potatoes to enhance the flavor. It turned out great, they were very delicious, crispy on the outside and tender on the inside.. Updated: November 26th 2013 This is an updated post with a new video guide on How To Slice Hasselback Potatoes. Cheesy Roasted Garlic Potato Balls.
I think I have discovered the ultimate way to use up leftover mashed potatoes and the perfect appetizer for New Year's Eve cocktail parties. First you mix left over potatoes with fresh roasted garlic and shredded Gruyere cheese. Next they are coated in a mixture of regular and panko bread crumbs. Finally you take the cheesy roasted garlic potato balls and fry them until they are perfectly golden brown.
They are crispy on the outside and oh so soft on the inside. Garlic Potato Fries. I'm never going to make garlic potato fries any other way. These garlic fries, win hands down as the best garlic french fries I've ever made. Plus they are baked – so I won't feel too guilty if I make it every time I'm craving for some potato comfort. When I read that there is garlic infused oil involved, my heart skipped a beat (in a good way, not the way oil would otherwise treat your heart).
I got down to making them immediately. I used extra virgin olive oil instead of vegetable oil because I just love the aroma that garlic and olive oil combine to impart. Baked Oven Fries. Honey Sesame Chicken. Orange Chicken. Honey Soy Stir Fried Chicken. Easy Biscuits Recipe. CHEDDAR BAY BISCUITS. Cheesy Garlic Biscuits.
---