Technology
23 incredible new technologies you'll see by 2021. Hydrogen Combustion. A Brief Rant on the Future of Interaction Design. So, here's a Vision Of The Future that's popular right now.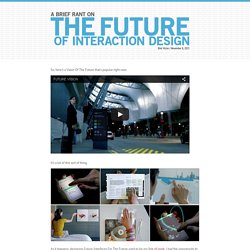 It's a lot of this sort of thing. As it happens, designing Future Interfaces For The Future used to be my line of work. I had the opportunity to design with real working prototypes, not green screens and After Effects, so there certainly are some interactions in the video which I'm a little skeptical of, given that I've actually tried them and the animators presumably haven't. 6a32983r.jpg (JPEG Image, 1812x420 pixels) - Scaled (72%) Harvard-designed 'soft robot' shows you how low it can go (video) It's the stuff of slow-moving robopocalyptic nightmares: a 'soft robot' designed by a team of Harvard scientists that draws inspiration from invertebrates like worms and starfish.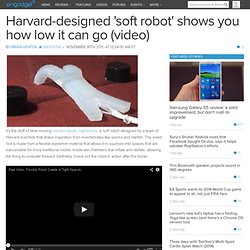 The wired 'bot is made from a flexible elastomer material that allows it to squeeze into spaces that are inaccessible for more traditional robots. Inside are chambers that inflate and deflate, allowing the thing to undulate forward. Definitely check out the robot in action after the break. Comments.
---