Books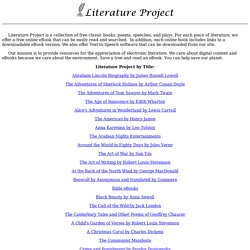 Literature Project is a collection of free classic books, poems, speeches, and plays. For each piece of literature, we offer a free online eBook that can be easily read and searched. In addition, each online book includes links to a downloadable eBook version. We also offer Text-to-Speech software that can be downloaded from our site. Our mission is to provide resources for the appreciation of electronic literature.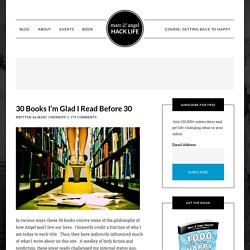 post written by: Marc Chernoff Email In various ways, these 30 books convey some of the philosophy of how Angel and I live our lives. I honestly credit a fraction of who I am today to each title. Thus, they have indirectly influenced much of what I write about on this site.
Having never taken a business class in college I find that I read and listen to a lot of business books to round out my education. The books usually aren't "How to Manage Your Cash Flow" but rather get me to rethink the way I run my business, which--despite no business classes or diploma--continues to be in business 13 plus years after I started it. In that time, here are 13 of the books that had the biggest impact on how I run my business (in no particular order):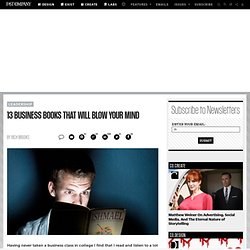 MBA programs don't have a monopoly on advanced business knowledge: you can teach yourself everything you need to know to succeed in life and at work. The Personal MBA features the very best business books available, based on thousands of hours of research. So skip business school and the $150,000 loan: you can get a world-class business education simply by reading these books. This page lists all Personal MBA recommended books and resources for easy printing, bookmarking, and reference. For more information about the Personal MBA and book selection criteria, read the manifesto.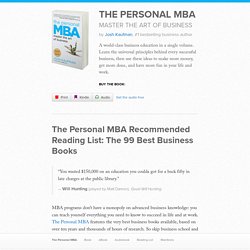 Download Audio Books with Audible.com Online Digital Audio Book Store
Audible Free Trial Details Get an audiobook of your choice, free, with a 30-day trial. After the trial, your paid membership will begin at $14.95 per month. With your membership, you will receive one credit every month, good for any audiobook on Audible. Cancel anytime, effective the next monthly billing cycle. Cancel before your trial ends and you will not be charged. Check out the full terms and policies that apply to Audible membership.