Random fun
Rate My Finally…
Games
Chros Neegers bezoekt de Universiteit van Tilburg. HOW TO: Be A Bad Bitch. Bitch Magazine | Feminist Response to Pop Culture. Banjo videos. De naam is Bardo Ellens, 22 jaar, afkomstig uit Deventer en ik ben een van die vrijgevochten creatievelingen op YouTube.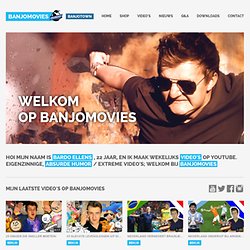 Vroeger wilde ik altijd al iets voor de camera doen, helaas vertrouwde mijn vader mij nooit met zijn (toen nog) peperdure videocamera. Het heeft uiteindelijk tot mijn veertiende levensjaar geduurd (2006) totdat ik een fotocamera kreeg. Chill Out Point - Funny images and artwork. 50 Incredible Photography Techniques and Tutorials - Smashing Magazine. Advertisement Over the recent months we've been presenting various showcases of photography – while many readers hated the showcases, most readers found them inspirational and perfect for a lousy workday's morning.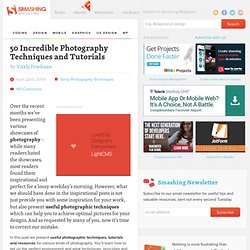 However, what we should have done in the inspirational posts is not just provide you with some inspiration for your work, but also present useful photographic techniques which can help you to achieve optimal pictures for your designs. And as requested by many of you, now it's time to correct our mistake. Cracked.com - America's Only Humor & Video Site Since 1958. Random Good Stuff - Entertainment Blog. SodaHead - Ask or Answer Questions, Discuss News, Express Opinions, or Create Polls. UV opschroefbal laagjes | All Over Piercings. Always in touch with your friends. Twitter / Home. Webpiraat.nl - 5 piraten en 132 gasten online! [madradhair] TV Shack - tune in. Verjaardagrecept Knakworst In Bladerdeeg op Smulweb.nl. Home of the Seme Uke Quiz - Seme Uke Personality Test - Gay Personality Quiz.
Other uke admire you, some seme fear you.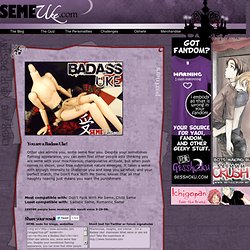 Despite your sometimes flaming appearance, you can even fool other people into thinking you are seme with your mischievous, manipulative attitude, but when push comes to shove, your true submissive nature emerges. It takes a seme with enough intensity to challenge you and keep you satisfied, and your perfect match, the Don't Fuck With Me Seme, knows that all that naughty teasing just means you want the punishment.
Lucky Dog Leather, leather bracelets, wristbands, leather cuffs and belts for men and women. FML: Your everyday life stories. LikeMyThought. A day in "my" life (in pictures) Omegle. MyLifeIsAverage - Life is pretty normal today. Coen en Sandershow. De Nederlandse Publieke Omroep is wettelijk verplicht toestemming te vragen voor het gebruik van cookies.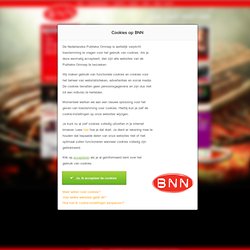 Als je deze eenmalig accepteert, dan zijn alle websites van de Publieke Omroep te bezoeken. Wij maken gebruik van functionele cookies en cookies voor het beheer van webstatistieken, advertenties en social media. De cookies bevatten geen persoonsgegevens en zijn dus niet tot een individu te herleiden. Momenteel werken we aan een nieuwe oplossing voor het geven van toestemming voor cookies. Hierbij kun je zelf de cookie-instellingen op onze websites wijzigen. Jezebel: Celebrity, Sex, Fashion for Women. Without Airbrushing.
---