Lunch box
Parenting articles and tips tagged saladrecipes. Asian greens salad recipe. Smashed bean dip recipe. Beet, spinach & goat's cheese couscous recipe. Put the orange zest, juice and 100ml water in a small pan and bring to the boil.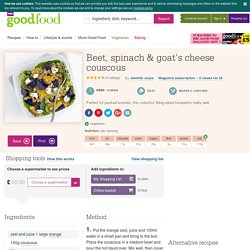 Place the couscous in a medium bowl and pour the hot liquid over. Mix well, then cover and leave to absorb for 5 mins. Fluff up the grains with a fork, then add the walnuts, cheese, apricots, beetroot and seasoning. Mix the oil and lemon juice (or use your favourite bought vinaigrette), then toss well. Tortellini with pesto & broccoli recipe. Bring a large pan of water to the boil.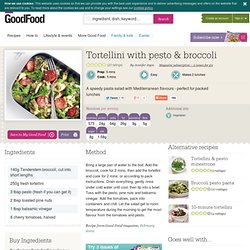 Add the broccoli, cook for 2 mins, then add the tortellini and cook for 2 mins, or according to pack instructions. Drain everything, gently rinse under cold water until cool, then tip into a bowl. Toss with the pesto, pine nuts and balsamic vinegar. Add the tomatoes, pack into containers and chill. Let the salad get to room temperature during the morning to get the most flavour from the tomatoes and pesto.
Mexican bean salad recipe. Lower the eggs into boiling water and boil for 6½ mins, then put into a bowl of cold water to cool.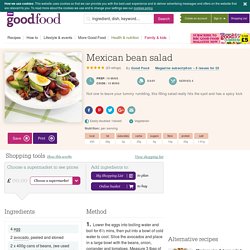 Slice the avocados and place in a large bowl with the beans, onion, coriander and tomatoes. Measure 3 tbsp of the dressing into a small bowl, then mix in the chilli and cumin. Once the eggs have cooled but are still warm, peel off the shells and cut into quarters. Superfood pasta salad recipe. Prawn & avocado salad with coconut dressing recipe. Scandi cheese & crackers recipe. Roasted veg & couscous salad recipe. Favourite pasta salad recipe.
---