Crafty stuff
Get flash to fully experience Pearltrees
Guest post by Rachael at Talk 2 the Trees . The perfect dress is hard to come by. I like my dresses to be cheap, and long enough. (I'm not a fan of super short dresses!) Cheap and long dresses don't seem to go hand in hand.. so, if you want something done right, you have to do it yourself! Here is a tutorial for a simple yet cute dress.
Created by Jane from See Jane Blog . Edited by Amy Christie .
UPDATE: This post originally ran on March 23 2011, but with summer winding down we wanted to bring it back up for some late summer inspiration!
I love elegance, but I'm on a budget, so aside from a $180 Tiffany's cupcake charm I once fell for in the Hong Kong airport, I've never spent more than $25 on any piece of jewelry in my life. The nice thing is that I have never found myself wanting in the accessories department- there are so many inexpensive alternatives! While ribbon accessories are very simple, even rudimentary forms of adornment, ribbon necklaces and chokers can be traced back to the most chic of European royalty and aristocracy.
According to TheWeddingReport.com , 'Rustic Weddings' are the new trending wedding theme! It seems that brides-to-be are in love with the charm, vintage feel and simple elegance of barn yard venues and wildflower bouquets that embody this theme. Think natural elements mixed with a western vibe and bring that all together with fun DIY crafting sessions. And in true country style- bring in the entire fam to help you out!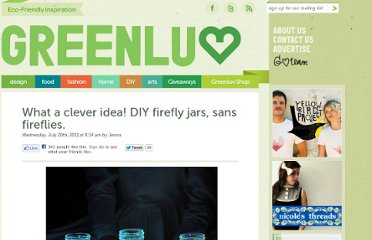 Wednesday, July 20th, 2011 at 8:14 am by Jenna I'm in love with this idea… and such a cool alternative to patio lights. All you have to do is gather a few mason jars, flick some glow-in-the-dark paint in the jars, and let them sit in the sun to charge during the day. By the time your dinner party rolls around you'll have firefly lanterns. I think it would be cute to do this same thing with mini jars, and string them up somehow… hmmm.