Travel Buying
Make Your Own Fake Boarding Pass | Threat Level
Tired of not being able to greet your sweetheart the moment she steps off a plane? Feel like seeing your grandma to the gate before she flies home? Just like eating at airport restaurants even when you've got no red-eye to catch? Enjoy exposing the flaws in security programs? Like testing the nation's legal system? Well, Christopher Soghoian has just the thing for you: an online service that will print out a customized Northwest Airlines boarding pass that can get you beyond the security gates at the airport (though it probably wouldn't get you on a plane and trying that would surely get you arrested).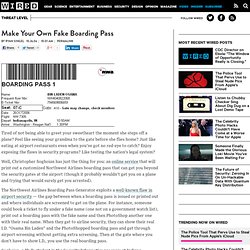 Hipmunk has an iOS app. Get it from iTunes » no thanks Hipmunk has an Android app. Get it from Google Play » The fastest, easiest way to plan travel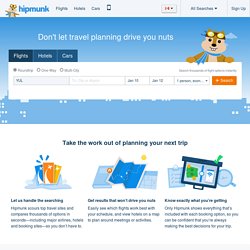 Las Vegas | VEGAS.com - Las Vegas Hotels, Las Vegas Shows & More.
Wegolo - We Fly Low Cost - Flight Search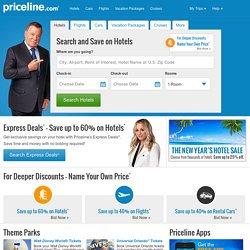 This EXCLUSIVE offer is like 2 trips for the price of 1, and available only at Priceline! Book a qualifying cruise getaway and we'll give you up to $500 in FREE hotel coupons just for choosing to sail with us. What's more, you can take advantage of this special offer before, or after your sailing-you make the call. Deals this good are rare, and will not last, so act now before it's too late! OFFER ENDS SOON!Search Cruises
Cheap Flights, Hotels, and Rental Cars -- Discount Airfare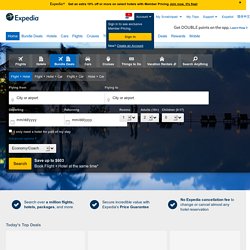 When it comes to travelling, Expedia.ca makes everything a breeze; like finding the best beach resort or booking cheap tickets for your next business trip. From airfare to vacation packages, we have all the tools you need to put together the getaway of a lifetime. Expedia not only makes it easy, we also have your budget in mind. Thanks to Expedia's Best Price Guarantee, you can rest assured you get the best deals on any of your bookings. The perfect vacation starts with the perfect place to stay.
Hotels Cars Flights Vacations Sign in / Register