Skepticism, Reason, Athiesm & Debunking
Bible Study Tools Online – Verses, Commentaries, Concordances, Verses, Parallel Versions
Skeptic's Annotated Bible / Quran / Book of Mormon
Michael Shermer
Doubtful News
The Atheist Experience TV Show
No Answers in Genesis
Worldview Naturalism.com
Patheos | Hosting the Conversation on Faith
Urban Legends
Richard Dawkins Foundation for Reason & Science
Freakonomics
Thou shalt not commit logical fallacies
http://skepticalscience.com/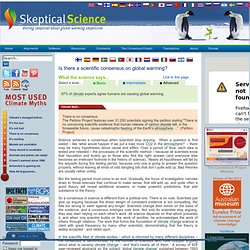 Science achieves a consensus when scientists stop arguing. When a question is first asked – like 'what would happen if we put a load more CO2 in the atmosphere?' – there may be many hypotheses about cause and effect.
Blog
Unreasonable Faith: A reasonable blog on atheism, religion, science, and skepticism
Home - The Skeptics' Guide to the Universe
Main Page - SkepticWiki
Skepchick
Skeptoid: Critical Analysis Podcast
CSI
Quackwatch
Arguments - Home
Conspiracy Theories Ranging from Stupid to Inane - Conspiracy Bomb
Common Sense Atheism » 500+ Atheism vs. Theism Debates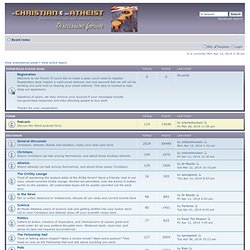 It is currently Thu Jan 09, 2014 2:17 am View unanswered posts • View active topics Registration Welcome to our forum!
• Index page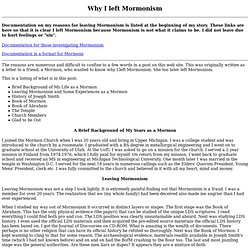 Why I Left Mormonism - the Mormon Church
Documentation on my reasons for leaving Mormonism is listed at the beginning of my story. These links are here so that it is clear I left Mormonism because Mormonism is not what it claims to be. I did not leave due to hurt feelings or "sin".
The Last 24 Hours
Science-Based Medicine
Skeptic's Annotated Quran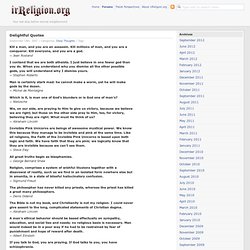 Delightful Quotes
Kill a man, and you are an assassin. Kill millions of men, and you are a conqueror. Kill everyone, and you are a god. ~ Jean Rostand I contend that we are both atheists. I just believe in one fewer god than you do. When you understand why you dismiss all the other possible gods, you will understand why I dismiss yours. ~ Stephen Roberts
Positive Atheism (since 1995) Join the Struggle Against Anti-Atheist Bigotry!
Atheism - Investigating Atheism
American Atheists | Welcome
Atheism is, in a broad sense, the rejection of belief in the existence of deities.[1][2] In a narrower sense, atheism is specifically the position that there are no deities.[3][4][5] Most inclusively, atheism is simply the absence of belief that any deities exist.[4][5][6][7] Atheism is contrasted with theism,[8][9] which in its most general form is the belief that at least one deity exists.[9][10] The term atheism originated from the Greek ἄθεος (atheos), meaning "without god(s)", used as a pejorative term applied to those thought to reject the gods worshipped by the larger society. With the spread of freethought, skeptical inquiry, and subsequent increase in criticism of religion, application of the term narrowed in scope. The first individuals to identify themselves using the word "atheist" lived in the 18th century. Arguments for atheism range from the philosophical to social and historical approaches.
Atheism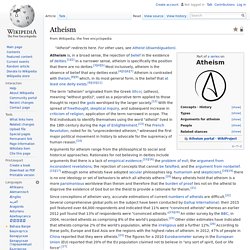 Sense About Science
Improbable Research
Latest Email Hoaxes - Current Internet Scams - Hoax-Slayer
religion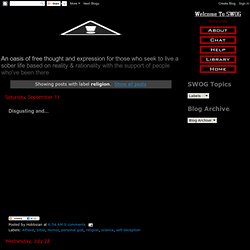 Cruising around on the web last night I came across the AntiChristian Phenomenon website. The following caught my eye. From their FAQ page:
Donald Simanek's Pages of Skepticism
Arguments from Global Warming Skeptics and what the science really says
Term Lookup Enter a term in the search box to find its definition. Settings Use the controls in the far right panel to increase or decrease the number of terms automatically displayed (or to completely turn that feature off).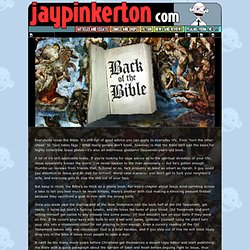 Back of the Bible
Everybody loves the Bible. It's shit-full of good advice you can apply to everyday life, from "turn the other cheek" to "God hates fags." What many people don't know, however, is that the Bible isn't just the basis for highly collectible Jesus plates—it's also an enormous goddamn thousands-years-old book. A lot of it's still applicable today. If you're looking for sage advice as to the spiritual direction of your life, Jesus apparently knows the score.
Evil Bible Home Page
The Skeptic's Dictionary
Why should a Christian ministry maintain a list of arguments creationists should avoid? As a ministry, we want to honor God and represent Christ well when we defend His Word. This means using honest, intellectually sound arguments that are based in Scripture, logic, and scientific research.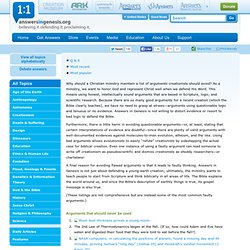 Get Answers
Science, Reason and Critical Thinking
The Quackometer -
Bad Science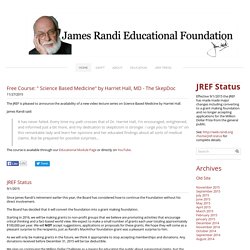 There is now a proliferation of products and services promising to "train your brain." In the past we used to call this, "learning." The term "brain training" has a certain connotation that implies something more is happening. For example, on the website brainmetrix.com they claim: "You will find some brain fitness workouts that can help your mind process information more quickly, and more efficiently, as well as the ability to perform multiple tasks at the same time."
James Randi Educational Foundation