Online Utilities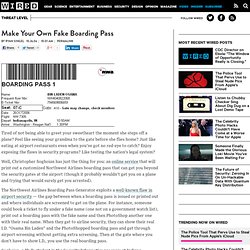 Tired of not being able to greet your sweetheart the moment she steps off a plane? Feel like seeing your grandma to the gate before she flies home? Just like eating at airport restaurants even when you've got no red-eye to catch? Enjoy exposing the flaws in security programs? Like testing the nation's legal system?
Make Your Own Fake Boarding Pass | Threat Level
Rickroll'n - URL disguising just got really simple!
Diigo is by far the best of the best one-time-article savers. Believe me, I have tried just about all of them and it has them all beat hands-down.

The only issues is it does have some bugs and their customer service is horrendous- expect your inquiries to be ignored. If they could improve their service a notch it would be a true blockbuster! by apollo702 Oct 16