Offbeat News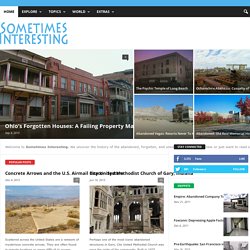 Sometimes Interesting | Weird, Forgotten and Sometimes Interesting Things
Abandoned Home for the Abandoned: Forest Haven Asylum Welcome to Forest Haven, one of the most deadly institutions in the United States. This asylum for the mentally ill was built not far the nation's capital in 1925, hidden in forested acreage away from the busy city center. The campus was beautiful, however care and treatment would deteriorate rapidly as the city's budget tightened.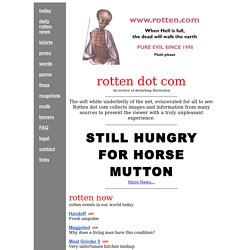 rotten dot com An archive of disturbing illustration The soft white underbelly of the net, eviscerated for all to see: Rotten dot com collects images and information from many sources to present the viewer with a truly unpleasant experience. STILL HUNGRY FOR HORSE MUTTON More News... rotten now rotten events in our world today Handoff
Topics Hot: Facebook NSFW Tattoo Photoshop Categories: Art Ads Signs Names Places People Objects Gifts Science Stories Medicine Tech Home Design Misc Random Today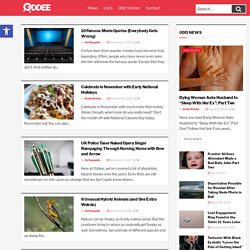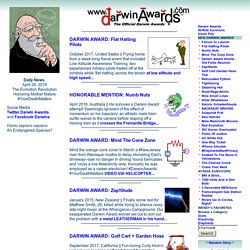 DARWIN AWARD: Newcastle Icicle (31 March 2013, Newcastle, England) Investigative journalism reaches a new "low" when a reporter freezes to death in an effort to get inside the lives of those who sleep rough... DARWIN AWARD: Smokin' Hot Sauce! Thinking he was drinking alcohol, Gary picked up a salsa jar and took a swig of gasoline. After spitting it up onto his clothing, he recovered from the shock by lighting a cigarette... HONORABLE MENTION: Alligator River The East Alligator River in the Northern Territory is crossed at Cahill's Crossing. Recently a Euro tourist drove into the parking lot of the an upstream boat launch area in her hired 4WD vehicle and, seeing a concrete ramp disappearing into the water, assumed that she had reached Cahill's Crossing...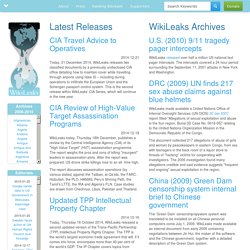 Trans-Pacific Partnership Agreement - Environment Chapter Today, 15 January 2014, WikiLeaks released the secret draft text for the entire TPP (Trans-Pacific Partnership) Environment Chapter and the corresponding Chairs' Report. The TPP transnational legal regime would cover 12 countries initially and encompass 40 per cent of global GDP and one-third of world trade. The Environment Chapter has long been sought by journalists and environmental groups.