Atlases
Worldmapper is a collection of world maps, where territories are re-sized on each map according to the subject of interest. There are now nearly 700 maps. Maps 1-366 are also available as PDF posters.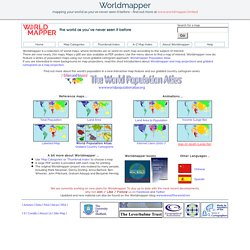 There is an informal and anecdotal belief among Americans that if you dig a hole deep enough, eventually you would come out in China. This is theoretically possible if the hole is angled in the right way, but if you dig straight down and through the exact center of the earth from anywhere in the 48 contiguous United States, you'd come out in the Indian Ocean. Only in parts of Argentina or Chile would a straight hole emerge in China. The map on this page allows you to approximately locate the place directly on the other side of the world from anywhere. The complementary red and black outlines are reversed, so that a place in the right place on the black outline map is directly opposite the place on the red outlines.
The Other Side of the World - Peakbagger.com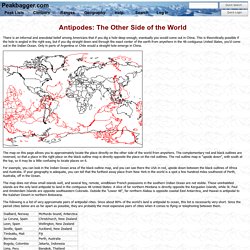 Worldmapper: The world as you've never seen it before
The Breathing Earth simulation Welcome to Breathing Earth. This real-time simulation displays the CO2 emissions of every country in the world, as well as their birth and death rates. Please remember that this is just a simulation. Although the CO2 emission, birth rate and death rate data used in Breathing Earth comes from reputable sources, data that measures things on such a massive scale can never be 100% accurate. Please note however that the CO2 emission levels shown here are much more likely to be too low than they are to be too high.