Example Reference Sites
MarketBase UK - marketbase.co.uk - B2B Lead Generation Services for IT Marketing Research
UK Business Data, Business Mailing Lists, Business Database, Email Lists, Sales Leads, B2B Data Lists & Cleansing, Buy Mailing Lists | Infogroup|UK
Business Matchmaking | Find a Business Partner - My Business Matches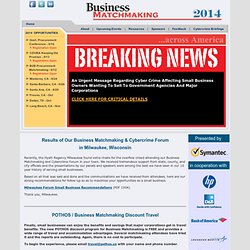 Results of Our Business Matchmaking & Cybercrime Forum in Milwaukee, Wisconsin Recently, the Hyatt Regency Milwaukee found extra chairs for the overflow crowd attending our Business Matchmaking and Cybercrime Forum in your town. We received tremendous support from state, county, and city officials and the presentations by our panels and speakers were among the best we have seen in our 10 year history of serving small businesses. Based on all that was said and done and the communications we have received from attendees, here are our strong recommendations for follow-up so as to maximize your opportunities as a small business. Milwaukee Forum Small Business Recommendations (PDF 100K) Thank you, Milwaukee.
Business Matchmaking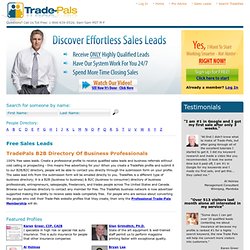 •Air Conditioning Winnipeg: We have been installing air conditioning systems since 1975, that's over 30 years in the Winnipeg area. Are air conditioning installers are journeyman refrigeration technicians who take pride in what they do. We do not hire sub-contractors to install your air conditioning systems. •Cheap Magazine Printing: Glen specializes in meeting the magazine printing needs of discerning firms. One of his many testimonials says: "...The icing on the cake is that I can't believe how affordable the magazine was!!!"
Free Sales Leads - B2B Business Lead Generation With No Cold Calling!
* Research conducted by YouGov found match is the online dating site most recommended by singles. All data was collected using an online survey and respondents were members of the YouGov panel. The 20,301 strong research sample for this study was sampled and weighted to a UK nationally representative 18+ adult profile. Fieldwork was conducted between the 8th Feb and the 18th Feb 2013 and it was a blind survey e.g. match.com was not named as the sponsor. From the sample of 20,301, 3,657 were 'true singles' e.g. single and not dating, or single and dating.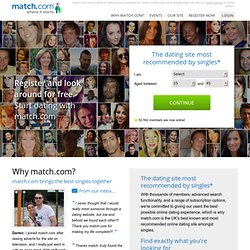 What websites have the best product filter and search capabilities to allow users to find what they want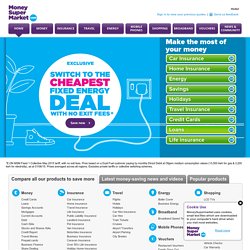 The Financial Conduct Authority ('FCA') considers our recent advertising campaign did not fully meet the standards that they expect for such advertisements. The FCA is concerned that the adverts created an incorrect overall impression that MoneySuperMarket is cheaper than other leading comparison sites more than 50% of the time. *Based on independent research, Consumer Intelligence, average January 2013 - October 2013† Car insurance: 25% of consumers could save up to £459.25 (exc legal), Consumer Intelligence Aug 2013; Home Insurance: 10% of consumers could save up to £200.18 (exc legal), Consumer Intelligence Aug 2013; Energy: Up to 10% can save at least £244.64, MoneySuperMarket data based on sales June 2013; Credit Cards: Save on average £265.81 based on best balance transfer card from MoneySupermarket vs. market average rate of 17.87% (Source BoE), with average balance transfer of £2201 (Source BBA). Min repayment of 2.5% over 12 months.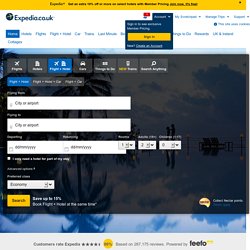 Hotels, Flights and City Breaks from Expedia This site uses cookies Book online or call: 020 3564 3904 at standard rates. We're here for you 24 hours a day. Close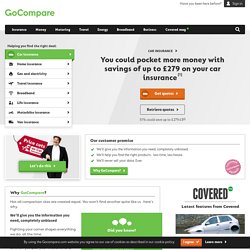 Gocompare.com 99% of our car insurance customers could save money
Whether you're looking for an insurance policy or another financial product for the first time, or you want to beat your renewal quote, our comparison service can help you find the right cover by comparing products and prices from across the market. Did you know...? Gocompare.com is the only price comparison site that has British Insurance Brokers' Association (BIBA) membershipWe're authorised and regulated by the Financial Conduct Authority Value is crucial, but it's not all about being the cheapest. Our quotes results pages display the key features of products, such as legal assistance, personal accident and breakdown cover. You can compare these at a glance, with more information available about features and benefits in both our quotes process and our in-depth guide pages.
Compare car insurance with Confused.com The first & longest running UK insurance comparison site We've been helping people save money online since 2002, starting with our car insurance service. Our aim is to make it easy for you to find the right deals on car insurance, home insurance, life insurance, credit cards and much more. We won't push the most profitable deal for us – we put your needs first. And it's not about selling you the very cheapest deal, unless the very cheapest deal is right for you.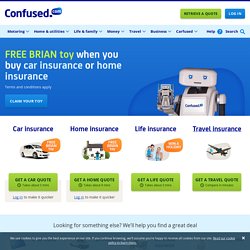 Accurate broadband performance information for consumers, governments and ISPs