Resourcing and Time
Go Ahead, Take that Break - Whitney Johnson. By Whitney Johnson | 2:57 PM July 11, 2011 Last weekend, like every weekend, I scrawled a long list of things to do on an old envelope.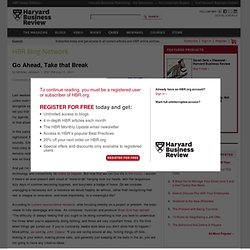 But unlike most weekends, instead of tethering myself to a computer and working, I sat in my backyard alongside my 10 year-old daughter in our collapsible camping chairs, reading novels. I wish I could tell you that this was a bona fide afternoon of rest and relaxation (R&R). Not quite. Make Time to Prioritize - Management Tip of the Day - March 15, 2012.
The Magic of Doing One Thing at a Time - Tony Schwartz. By Tony Schwartz | 8:53 AM March 14, 2012 Why is it that between 25% and 50% of people report feeling overwhelmed or burned out at work? It's not just the number of hours we're working, but also the fact that we spend too many continuous hours juggling too many things at the same time. Relief from information overload | David Fraser, PhD. The email Inbox just gets bigger.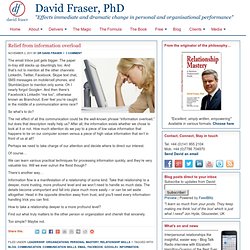 The paper in-tray still stacks up dauntingly too. And that's not to mention all the other channels: LinkedIn, Twitter, Facebook, Skype text chat, SMS messages on mobile/cell phones, and StumbleUpon to mention only some. Oh I nearly forgot Google+. And then there's Facebook's LinkedIn "me too", otherwise known as Branchout. Ever feel you're caught in the middle of a communication arms race? In Tough Situations, Unplug and Wait - Management Tip of the Day - February 14, 2012. February 14, 2012 When a project or meeting gets difficult, it can be tempting to power through to try to get it over with.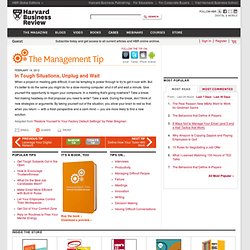 But it's better to do the same you might do for a slow-moving computer: shut it off and wait a minute. Give yourself the opportunity to regain your composure. In a meeting that's going nowhere? Take a break.
---