Facebook
News for Page Owners: The New Version of Page Insights is Here | Facebook for Business
STUDY: 7 Percent Of Facebook Brand Page Posts Are Considered Spam
According to a recent survey among 9,000 Facebook brand pages, 7 percent of all posts published are considered spammy by the users.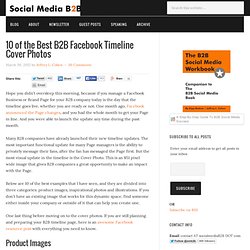 10 of the Best B2B Facebook Timeline Cover Photos By Jeffrey L. Cohen Hope you didn't oversleep this morning, because if you manage a Facebook Business or Brand Page for your B2B company today is the day that the timeline goes live, whether you are ready or not.
10 of the Best B2B Facebook Timeline Cover Photos
The Brands With the Top Relationship Quality on Facebook | Digital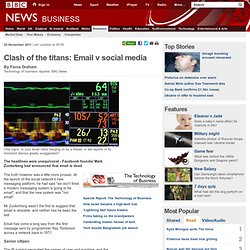 Clash of the titans: Email v social media
25 November 2011 Last updated at 00:05 ET By Fiona Graham Technology of business reporter, BBC News Vital signs: Is your email inbox hanging on by a thread, or are reports of its imminent demise greatly exaggerated? The headlines were unequivocal - Facebook founder Mark Zuckerberg had announced that email is dead. The truth however was a little more prosaic. At the launch of the social network's new messaging platform, he had said "we don't think a modern messaging system is going to be email", and that the new system was "not email". Mr Zuckerberg wasn't the first to suggest that email is obsolete, and neither has he been the last.
August 10, 2011 by Steve Woodruff [See UPDATE below!] Apparently, LinkedIn has recently done us the "favor" of having a default setting whereby our names and photos can be used for third-party advertising.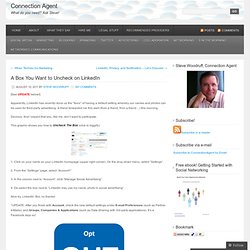 A Box You Want to Uncheck on LinkedIn
How to Use Facebook for Business - Free HubSpot eBook
Facebook New Features - 6th July 2011
Create Facebook landing pages – no developers required Want to create attractive Facebook iFrame landing pages easily using a simple WYSIWYG editor? With the Facebook landing page iFrame plugin for WordPress you can; use the easy and intuitive WordPress interface to show your content in the very best manner without the need for any developer knowledge. Easy to create Facebook-width landing pages In-page navigation bar for easy-to-find content No developer knowledge required Use WordPress WYSIWYG editor to create your pages Integrated Facebook 'like' buttons How does it work?
Facebook Page iFrame Plugin for Wordpress | Attacat of Edinburgh
Facebook the king of shared content: report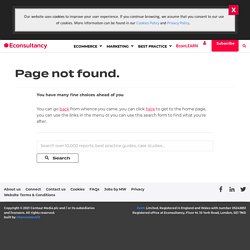 Just how big a part of the link economy is content sharing? According to a study which looked at behavior across some 300m who share content monthly using the ShareThis button, sharing now accounts for approximately 10% of all traffic on the internet. And when it comes to the source of this sharing, one site stands out above all others: Facebook. ShareThis' data shows that the popular social network produces 38% of all sharing traffic, slightly more than bookmarking services and blogs, which account for 34% of sharing traffic. Facebook handily beats out both Twitter and email, which each generate 17% of sharing referrals.
Free Ebook: Facebook Marketing Update - Spring 2011