Sports
Parkour skills. Dunking Devils @ The Croatian Allstar game. Nike - Write The Future - a Sport & Extremes video. NBAs All-Time Best Buzzer Beaters.
Biking. Baseball. Skateboarding. Mansour Bahrami: The most interesting tennis player in the world - The Feed. (CBS) - Rodger Federer may have the titles.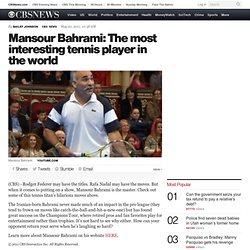 Rafa Nadal may have the moves. But when it comes to putting on a show, Mansour Bahrami is the master. Check out some of this tennis titan's hilarious moves above. The Iranian-born Bahrami never made much of an impact in the pro league (they tend to frown on moves like catch-the-ball-and-hit-a-new-one) but has found great success on the Champions Tour, where retired pros and fan favorites play for entertainment rather than trophies. Extreme Waterpark Rollerblading.
---