Tools
As the web becomes more and more inundated with blogs, videos, tweets, status updates, news, articles, and countless other forms of content, "information overload" is something we all seem to suffer. It is becoming more difficult to weed through all the "stuff" out there and pluck out the best, most share-worthy tidbits of information, especially if your topic is niche. Let's face it, Google definitely has its shortcomings when it comes to content curation and the more it tries to cater to all audiences, the less useful it becomes. The demand for timely, relevant content that is specific to our unique interests and perspectives has given rise to a new generation of tools that aim to help individuals and companies curate content from the web and deliver it in a meaningful way. These new tools range from simple, application-specific types such as social media aggregators and discovery engines, to more complex, full-blown publishing solutions for organizations.
Reaction-Based Curation Platforms - Percolate Uses Twitter and RSS Feeds to Deliver the Goods
Founded on January 1, 2011 by Noah Brier and James Gross, Percolate is an online platform that curates content from Twitter and RSS feeds. The sheer amount of information that passes through a typical social media user's path in a day can be tremendously overwhelming. Percolate, however, using an algorithm, will organize content according to what you're interested in. What's so innovative about Percolate is how much emphasis is placed on reaction. With buttons like "awesome," "interesting," and of course the Internet-friendly "win" and "fail," Percolate lets you say what's on your mind. Furthermore, users are able to add a tag of their own to customize the experience further.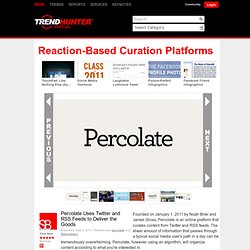 Twitter-Curation-Tool MyTweetMag Restarts With A New Design – MyTweetMag Blog
Inside Breaking News
BreakingNews teams up with Storify: We're excited to announce that we've partnered with Storify to bring our real-time curation to the social storytelling tool. Storify enables users to build their own social media stories with embedded tweets, YouTube clips, Facebook updates, Flickr photos and more. You can now select BreakingNews.com as a source on Storify to add breaking tweets, photos and videos that we discover from hundreds of news organizations and eyewitnesses around the world. BreakingNews.com is also the first site to add "Storify" buttons – click it under a tweet, for example, and you can import it straight into Storify. Nifty.
If you enjoyed this article subscribe to my blog . Curation, which is something I do, I think, is gaining steam. The term has caught on in social media networking circles. This is good, and bad. You can find a bounty of articles about why curating will help your brand, but you may not just be interested in curating for your brand. If you are looking for a deeper look into curating, it can be found.
» At least 20 tools that might help you curate something Alex Kessinger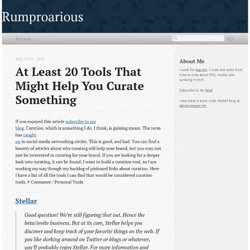 To #Fukushima by @xenijardin, @seanbonner and @safecastdotorg
Do you want to know how to find the most valuable social media content? Are you looking for great articles and videos to share with your friends and fans? Be sure to watch this edition of Social Media Examiner TV with our host Mari Smith . In this episode, Mari introduces you to the concept of curating content and how it can help your business. And Mari also reviews 8 content curation tools to help you find the best information for your business. Share your feedback, see the show notes and discover how you can be part of a future show below!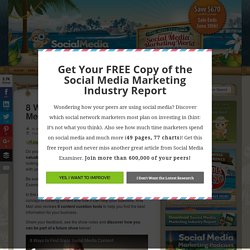 Good curation leads to great discovery! We're really excited to release new features and improved functionality that will provide you with even more control over your content. Your in the curator's seat, so let us know what you think about the new features and how they are working for you. You can learn more about our features here on our forum. 1.
New Features: RSS, Blacklists and Improved Filtering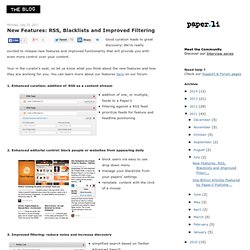 Percolate: The Microblogging Platform Where Tumblr And Twitter Go To Hang Out
Noah Brier is drinking coffee. It's cold and damp outside in Tribeca; inside the coffeehouse, it's not much better, with soggy sneakers squeaking by and rain jackets dripping wet. But Brier's espresso sipping is apropos for a different reason. The Barbarian Group veteran, founder of Brand Tags , and No. 59 on Fast Company 's Most Creative People list is taking me through his new startup, Percolate, which, as Brier explains, is all about coffee. Percolate , currently in its "double secret alpha" version, is a blogging platform that provides curated content for you to write about.
Thirteen years ago this spring, Dave Winer's UserLand Software launched a technical protocol that made it easy to publish content from one Web page onto another. (Winer was the inspiration for ReadWriteWeb and countless other blogs.) A similar protocol was employed by another blogging tool that would launch one year later, Evan Williams and Meg Hourihan's Blogger - which will reportedly now be renamed Google Blogs in the great Google Plus Rebranding of 2011.
Twitter Curation Grows Up: Storify Becomes Blog & SEO Friendly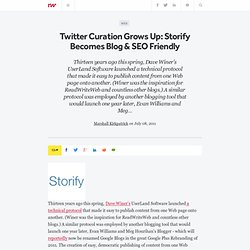 Pearltrees Puts Its Sharing Features into Hyperdrive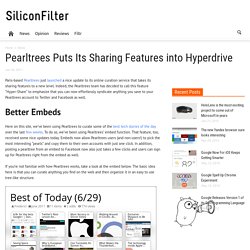 Pearltrees Puts Its Sharing Features into Hyperdrive Paris-based Pearltrees just launched a nice update to its online curation service that takes its sharing features to a new level. Indeed, the Pearltrees team has decided to call this feature "Hyper-Share" to emphasize that you can now effortlessly syndicate anything you save to your Pearltrees account to Twitter and Facebook as well. Better Embeds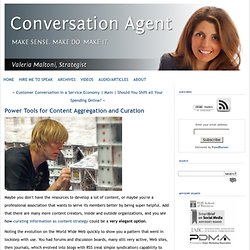 Maybe you don't have the resources to develop a lot of content, or maybe you're a professional association that wants to serve its members better by being super helpful. Add that there are many more content creators, inside and outside organizations, and you see how curating information as content strategy could be a very elegant option . Noting the evolution on the World Wide Web quickly to show you a pattern that went in lockstep with use.
Social Grindr | Social Media Services for Business
12 Content Curation Platform Must Haves - HiveFire on Content Curation
Anyone can be a content curator — by selectively identifying, organizing and sharing the most relevant content on a specific topic or issue online. Some people choose to do it purely manually by finding relevant content by browsing the web, organizing it with tags and other meta-data, and then sharing through a blog post, email or social media channels. Others cobble together and duck tape various tools like Google Alerts and feed readers to emulate the content curation process.
The Power of Twitter in Information Discovery