Photography
Photo Miami 2008 Review
¿Quién no se ha deleitado nunca en una librería o biblioteca ante un buen libro de fotografía? La oferta, la temática y los precios son tan variados que a veces resulta difícil decidirse. Aconsejados por fotógrafos como Rafa Badía y Paco Elvira, proponemos una lista de diez obras clásicas que bien valen un hueco en nuestra estantería. No están todos los que son, pero sí son todos los que están.
10 grandes libros sobre fotografía que no pueden faltar en tu biblioteca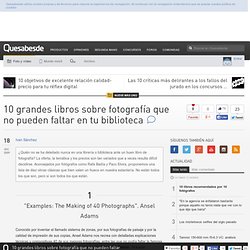 Master of Photography at photography-now.net - The International Photography Index.
She pauses, and draws out the next word: "Oh, I get it.
Annie Leibovitz: lessons in life and love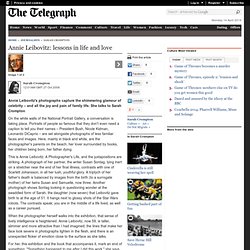 Annie Leibovitz: Nothing left to hide - Times Online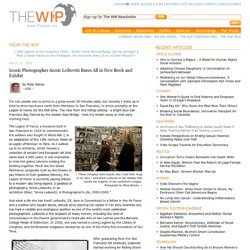 I'm not usually one to arrive to a press event 30 minutes early, but recently I woke up in time to drive two hours north from Monterey to San Francisco, to arrive promptly at the Legion of Honor, for the first time. The view from this hilltop setting - a bright blue San Francisco Bay framed by the Golden Gate Bridge - took my breath away at that early morning hour. • "These [images] were exactly how I had them hung in my barn," said Annie Leibovitz of the hallway that carries the majority of the exhibition's images. Photograph by Mona Brooks
Iconic Photographer Annie Leibovitz Bares All in New Book and Exhibit
Annie Leibovitz: A Photographer's Life, 1990-2005 San Francisco Fine Arts Museum Legion of Honor March 1 – May 25, 2008 http://www.famsf.org/legion/exhibitions/exhibition.asp?exhibitionkey=818
A Photographer's Life: An Exhibition of photographs by celebrity photographer Annie Leibovitz, including pictures of her life with her family and Susan Sontag and Vanity Fair magazine photos she is famous for
The Library of Congress' Photostream
Lee Miller Archive - 20th Century photography and Surrealism
Internet for Image Searching > START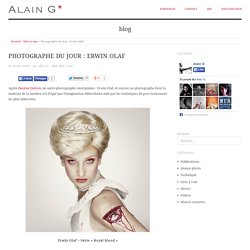 Photographe du jour : Erwin Olaf
Après Desiree Dolron, un autre photographe néerlandais : Erwin Olaf, et encore un photographe dont la maitrise de la lumière n'a d'égal que l'imagination débordante aidé par les techniques de post-traitement les plus élaborées. Erwin Olaf – Série « Royal blood » On retrouve dans son travail des clichés de la mode parfois mis au service de l'érotisme, de l'humour ou du « bizarre » à la Freaks tout cela dans des séries mixant des photos « classiques » comme dans sa série « Paradise portraits » : Erwin Olaf – Série « Paradise portraits » Il a travaillé, bien sur, dans la mode mais également dans d'autres domaines, high-tech, industrie… Il a par exemple fait une campagne et le calendrier « Lavazza », moins connu que le calendrier Pirelli mais d'au moins aussi bonne qualité.