Food
Cookie inception. Inception Cookies!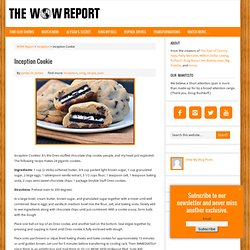 It's the Oreo-stuffed chocolate chip cookie, people, and my head just exploded. The following recipe makes 24 gigantic cookies. Ingredients: 1 cup (2 sticks) softened butter, 3/4 cup packed light brown sugar, 1 cup granulated sugar, 2 large eggs, 1 tablespoon vanilla extract, 3 1/2 cups flour, 1 teaspoon salt, 1 teaspoon baking soda, 2 cups semi-sweet chocolate chips, 1 package Double Stuff Oreo cookies. Free Recipe of the Week: Toasted Ravioli from 101 Autumn Recipes - Gooseberry Patch. Recipe Collection | My Recipe Box | Share a Recipe Submitted by: Diane Cohen from The Woodlands, TX Originally shared on the web 03/10/2011 9-oz. pkg. refrigerated cheese-filled ravioli1/2 c.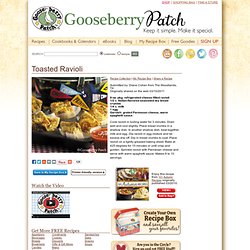 Italian-flavored seasoned dry bread crumbs1/4 c. milk1 eggGarnish: grated Parmesan cheese, warm spaghetti sauce. 20 Minute Roasted Tomato Pasta. Okay, so maybe I led you on.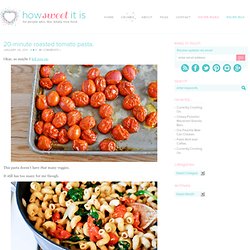 This pasta doesn't have that many veggies. It still has too many for me though. But how can I resist when it is so simple and quick? Preheating my oven is what took the longest! It's easy, it's versatile, and you can make it your own. Chocolate Covered Beer Marshmallows. I made marshmallows with beer.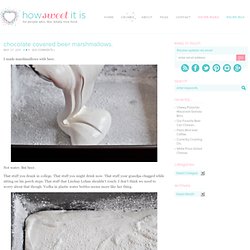 Not water. But beer. That stuff you drank in college. That stuff you might drink now. That stuff your grandpa chugged while sitting on his porch steps. Grown Up Hot Chocolate with Homemade Bailey's Marshmallows. Hi.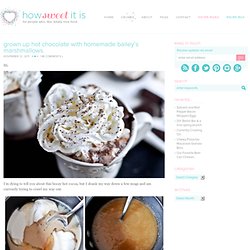 I'm dying to tell you about this boozy hot cocoa, but I drank my way down a few mugs and am currently trying to crawl my way out. Like everything else this week, it wasn't my idea… a bunch of you [like Allison] looked at me [virtually] as if I was insane for not putting the marshmallow vodka in hot chocolate. I'm so glad I have smart invisible internet friends! Danish Recipes: Pancakes, Waffles and Dumplings. 1 egg white 2 cups applesauce ½ cup heavy cream ½ teaspoon cinnamon ½ teaspoon nutmeg Beat egg white until stiff.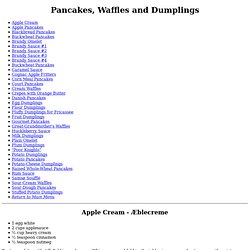 Fold in applesauce. Whip cream and fold in. Sprinkle cinnamon and nutmeg over the mixture. Nutella Mug Cake. I have been experimenting with different mug cakes every since I heard about them about a year ago.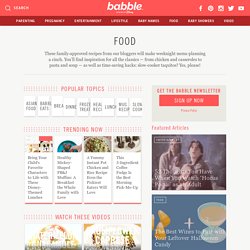 None of them have been winners. They were either too chewy, too dry, or not sweet enough. Former death row chef offers to cook free meals for the condemned. Brian Price spent a decade as a prison chef, preparing last meals for the condemned.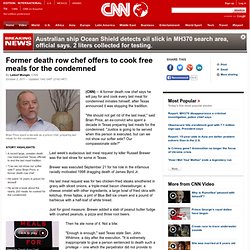 A recent large, uneaten death row meal pushed Texas officials to end the last meal tradition"Can we not show our softer side? " asks Brian Price, a former death row chefHe spent 14 years in prison for assaultHe wrote a book about the nearly 200 meals he cooked for the condemned. Fried Oreo Cookie Recipe. This fried Oreo cookie recipe is the new craze.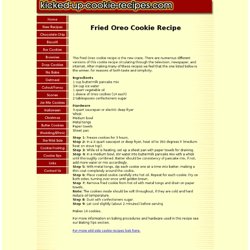 There are numerous different versions of this cookie recipe circulating through the television, newspaper, and internet. After making many of these recipes we feel that the one listed below is the winner, for reasons of both taste and simplicity. When French Toast Met Pancakes. If you ever want me to like you, just make me a light, fluffy stack of pancakes.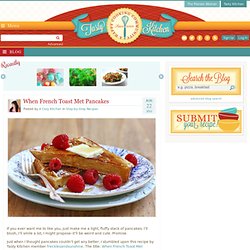 I'll blush, I'll smile a lot, I might propose–it'll be weird and cute. Promise. Just when I thought pancakes couldn't get any better, I stumbled upon this recipe by Tasty Kitchen member frecklesandsunshine. The title: When French Toast Met Pancakes…and Fell In Love totally made me giddy with butterflies in my stomach. Buttermilk Blueberry Breakfast Cake | alexandra's kitchen — recipes, photos, food. I swear buttermilk is magic. I've dwelled on this before. Buttermilk seems to turn everything to gold. Super-moist, super-delicious gold.
Baked Potato Soup Recipe.
---