Funny
Jack Black doing Late Show Top Ten
Knockout Fail Unbelievable Crazy Double Knockout!!!
ねこ専用エレベーター
SUP. The Casual
I aint never scared!
Fuckin Tea
Hidden Camera Death
Amazing Mirror Prank (LOL)
Beyonce Clown
You will NEVER guess what this ad is about
PA] Natalie's Rap (uncensored)
Awesome Prank – You Evil Bastard
Don't Judge Too Quickly... We Won't.
If you don't laugh at this I will pay you $1.00, Seriously
If you watch this 100 times you'll still laugh!! FOUR!!!!
never scare a black man
JK Wedding Entrance Dance
Tow Truck Revenge Video
Outtakes From Bill The Fishing Guy Video
100 Funny Falls
DUI test Perfect Score
videos :: funny & random
Leslie Nielsen: Greatest line in the history of comedy
LOL: Girl says the craziest things after wisdom teeth extraction - The Feed
(CBS) - We posted the other week about a girl having some problems after her wisdom teeth were taken out.
Granny Raving
7x13=28
A hilarious and strong indicator for how mainstream marijuana use has become in American society. A short clip from a recent Family Feud episode is going viral! (You can watch the video at the link at the bottom of this article).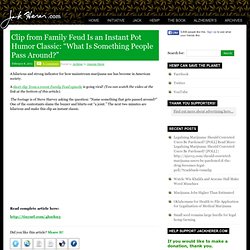 Clip from Family Feud Is an Instant Pot Humor Classic: "What Is Something People Pass Around?" | JackHerer.com
Zach Galifianakis Bravely Tokes Up on TV
Top 5 Panda Cheese Commercials