Funny
Jack Black doing Late Show Top Ten. Knockout Fail Unbelievable Crazy Double Knockout!!! ねこ専用エレベーター. SUP. The Casual. I aint never scared! Fuckin Tea. Hidden Camera Death. Amazing Mirror Prank (LOL) Beyonce Clown. You will NEVER guess what this ad is about. PA] Natalie's Rap (uncensored) Awesome Prank – You Evil Bastard. Don't Judge Too Quickly... We Won't. If you don't laugh at this I will pay you $1.00, Seriously. If you watch this 100 times you'll still laugh!! FOUR!!!! Never scare a black man. JK Wedding Entrance Dance. Tow Truck Revenge Video. Outtakes From Bill The Fishing Guy Video. 100 Funny Falls. DUI test Perfect Score. Videos :: funny & random. Leslie Nielsen: Greatest line in the history of comedy. Granny Raving. 7x13=28. Clip from Family Feud Is an Instant Pot Humor Classic: "What Is Something People Pass Around?" | JackHerer.com. A hilarious and strong indicator for how mainstream marijuana use has become in American society.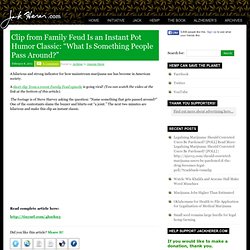 A short clip from a recent Family Feud episode is going viral! (You can watch the video at the link at the bottom of this article). Zach Galifianakis Bravely Tokes Up on TV. Hoping to shatter lingering Reefer Madness-era taboos, Zach Galifianakis really, truly, actually smoked weed on Real Time with Bill Maher.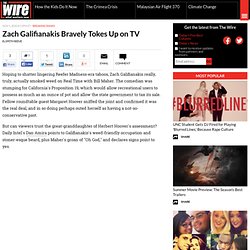 The comedian was stumping for California's Proposition 19, which would allow recreational users to possess as much as an ounce of pot and allow the state government to tax its sale. Fellow roundtable guest Margaret Hoover sniffed the joint and confirmed it was the real deal, and in so doing perhaps outed herself as having a not-so-conservative past. But can viewers trust the great-granddaughter of Herbert Hoover's assessment? Daily Intel's Dan Amira points to Galifianakis's weed-friendly occupation and stoner-esque beard, plus Maher's groan of "Oh God," and declares signs point to yes. Top 5 Panda Cheese Commercials.
---