Cooking
Healthy Vegetarian Recipes: Couscous-Stuffed Peppers Recipe. Bored with your basic stuffed peppers recipe ?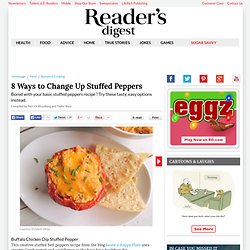 Try these tasty, easy options instead. Compiled by Perri O. Blumberg and Taylor Shea. Vegetables: Tomato Biscuits Recipe. Vegetable Recipes: Italian Spinach Pie. One Pot Meals: Chickpea Curry" Now that my son Hugh is a full time cheesemonger, he doesn't get to spend much time at our cottage during the summer.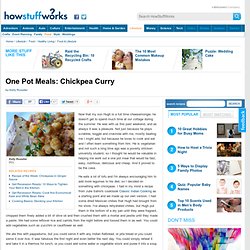 He was with us this past weekend, and as always it was a pleasure. Not just because he plays scrabble, boggle and crokinole with me, mostly beating me I might add, but because he loves to cook and eat and I often learn something from him. Spicy Garbanzo Bean Soup Recipe. Ginger-Squash Soup Recipe. S Newest Recipes:Chili Bean-Stuffed Peppers Recipe. Vegetarian Chili. If you've ever tried to make a vegetarian chili, you know how wrong this stuff can go.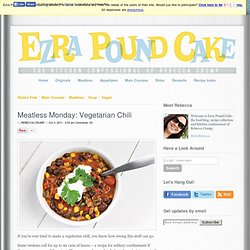 Some versions call for up to six cans of beans – a recipe for solitary confinement if there ever was one. Others taste like someone dumped a shaker of cumin into a pot of vegetable soup. They just don't taste like chili. Aromatic Curried-Chili Fusion. Chili cross-bred with curry…sounds kind of weird hey?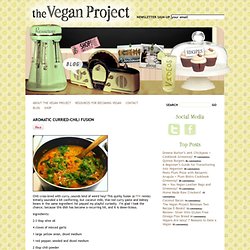 This quirky fusion (a PPK remix) initially sounded a bit conflicting, but coconut milk, thai red curry paste and kidney beans in the same ingredient list piqued my playful curiosity. I'm glad I took the chance, because this dish has become a recurring hit, and it is deee-licious. Ingredients: Vegetarian. Spicy Black Bean Cakes Recipe. Peanut Butter Crusted Sweet Potato Fries – Fake Ginger.
If you forced me to make a list of my top 5 favorites foods, sweet potatoes and peanut butter would be numbers 1 and 2.
I cannot believe I'd never though to combine them – they are seriously a match made in heaven. It's hard to explain what happens to the peanut butter in the oven. Pea & Avocado Penne. Loading ...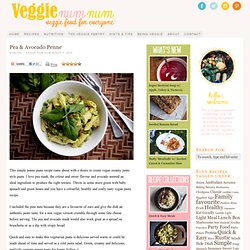 This simple penne pasta recipe came about with a desire to create vegan creamy pesto style pasta. I love pea mash, the colour and sweet flavour and avocado seemed an ideal ingredient to produce the right texture. Homemade Stuffed Pizza Crust Recipe | Fresh Tomato & Arugula Pizza. I think there are very few who can vouch and say that they DON'T like Pizza!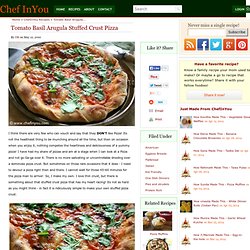 Its not the healthiest thing to be munching around all the time, but then on occasion when you enjoy it, nothing competes the heartiness and deliciousness of a yummy pizza! I have had my share of pizzas and am at a stage when I can look at a Pizza and not go Ga-ga over it. There is no more salivating or uncontrollable drooling over a dominoes pizza crust. Account Suspended. Some More Please! Recipes * 5,000: Avocado Fries. Canola oil for frying 1/4 cup flour 1 tsp kosher salt 2 large eggs, beaten to blend 1 1/4 cups panko (Japanese bread crumbs) 2 firm-ripe medium avocados, pitted, peeled, and sliced into 1/2-in. wedges Grated parmesan for serving (optional) Preheat oven to 200°.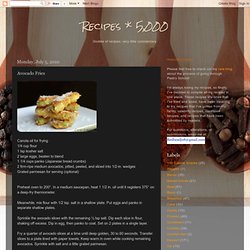 In a medium saucepan, heat 1 1/2 in. oil until it registers 375° on a deep-fry thermometer. Meanwhile, mix flour with 1/2 tsp. salt in a shallow plate. Put eggs and panko in separate shallow plates. Homemade Black Bean Veggie Burgers Recipe. Creamy Roasted Jalapeno Soup Recipe at Epicurious. So good -- summer or winter. servingsMakes 1-1/2 Gallons. 15 servings.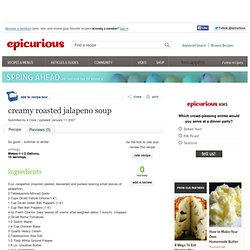 Ingredients 5-oz Jalapeños (roasted, peeled, deseeded and pureed--leaving small pieces of jalapeños)2 Tablespoons Minced Garlic2 Cups Diced Yellow Onions(1/4")1 Cup Diced Green Bell Peppers (1/4")1 Cup Red Bell Peppers (1/4")4-oz Fresh Cilantro (take leaves off stems after weighed--about 1 bunch), chopped2 Diced Roma Tomatoes1/2 Gallon Water1/4 Cup Chicken Base3 Quarts Heavy Cream2 Tablespoons Sea Salt1/2 Tbsp White Ground Pepper1/8 Lb. Unsalted Butter1 Cup Cornstrarch3/4 Cup Water. Tomatoes with a Surprise Filling. This is a quick an easy summertime appetizer!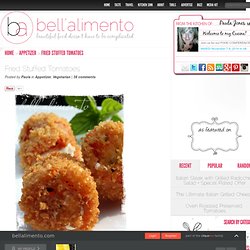 Pomodori a Sorpresa means tomatoes with a surprise! Who doesn't love a surprise right? Well, me actually LOL! I'd much rather know! Grilled Avocados. Avocados have been a mainstay of my culinary life for about as long as I can remember. Growing up in Southern California in the 60's, avocados were locally grown, plentiful and part of just about every party and celebration, usually in the form of guacamole. But all that changed and guacamole became the springboard for a host of dishes, sweet and savory, but for me, nothing beats a plain slice of perfectly ripe avocado. Stuffed Baguette. Stuffed Baguette A hollowed baguette obviously makes a perfect shell for any filling you are in the mood for. And once stuffed and properly chilled, it becomes a neat appetizer.
This particular one is filled with all my favorite things: goat cheese/cream cheese, sun dried tomatoes, olives, spicy salami, crunchy bell pepper, and fresh herbs. Mozzarella Sticks. When I told my friends I was planning on making homemade mozzarella sticks for a guy's weekend out of town the idea was met with a profound lack of enthusiasm. Everybody knows that I like to experiment in the kitchen, but somehow the idea of making a bar food staple like mozzarella sticks from scratch seemed like a complete waste of time to the group. After being lectured about the innumerable brands available in the freezer section at the grocery store and a heated debate about whether marinara or ranch is the better dipping accompaniment, I decided to risk further heckling and see if I couldn't one-up T.G.I.
Homemade Granola Bars. Homemade Granola Bars by Rebecca Mar 10th, 2010 // Recipes, Snacks, Veggie Friendly Everyone in my house loves granola bars. While we like to pretend that they are a healthy snack, most of the store bought kinds are filled with junk. Breakfast pizza. My son's favorite game in the whole world is Let's Play With The Other Baby! You Know, The One We Keep In The Mirror.
We bring him over to this giant mirror in the hallway and he goes berserk, he paws at the "other" baby, kicks his legs, squeals and laughs. It cracks us up too. Babies: they're so cute when they're kinda confused! Crave-Worthy Cream Cheese filled Carrot Cake Muffins. Killer Peanut Butter Mousse Brownie Pie. Spicy Baked Chickpeas | Andicakes.
---