Rękodzieło
bawełna i len - tkaniny, materiały, dodatki i akcesoria do szycia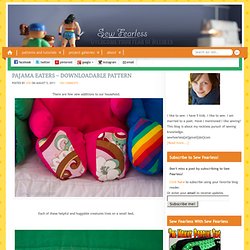 There are few new additions to our household. Each of these helpful and huggable creatures lives on a small bed, and has quite an appetite for clean-but-not-squeeky pajamas. We feed them every morning and they give back the jammies at night.
Monster Page-Corner Bookmarks
Le pool Polish craft / polskie rękodzieło
<div id="javascript-nag" class="notice"><p> Take full advantage of our site features by enabling JavaScript. <a href="http://www.etsy.com/ca/help/article/372">Learn more</a>. </p></div> Help
Galerie de apple & eve
june at noon: making happy
From sketch to computer to pattern. Now I just have to find time for the stitching…. (My apologies for the grainy photos. Only one of them was taken in decent light.) I've disappeared down a stash-busting rabbit trail. I started out looking through my cotton yarn so that I could make some Swiffer socks for a friend, and in so doing realized I was overdue to make some new dishcloths for myself, and in so contemplating I started a quest to use up all the scraps of cotton I had left lying around, Swiffers and their socks all but forgotten.