Foodie Stuff
Angry Asian Creations - i'm asian. i'm angry. i create.
Rick Bayless & Frontera News: Gourmet Mexican Cooking
Bon Appetit Magazine
IndianSimmer - Indian food made easy plus more!
Scanwiches
Tasteologie
Macheesmo - Learning to be Confident in the Kitchen
Hot Mama's Wings | Eugene Oregon
Chic'n Shack - Eugene, OR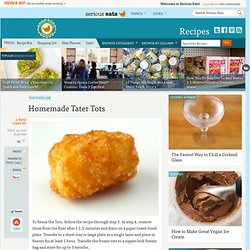 Homemade Tater Tots
To freeze the Tots, follow the recipe through step 3. In step 4, remove them from the fryer after 1 1/2 minutes and drain on a paper towel-lined plate. Transfer to a sheet tray or large plate in a single layer and place in freezer for at least 1 hour. Transfer the frozen tots to a zipper-lock freezer bag and store for up to 3 months. Be careful not to overprocess potatoes or they will become sticky and gummy. If a few large chunks of potatoes remain, break them up with your fingers in the bowl.
burgers here and there | making exotic flavors un-scary, one burger recipe at a time, one country at a time
The Vortex Bar & Grill
Kitty Broman Putnam1916 - 2014 This is all about me. When I think back and remember Grandma Kitty, it's like she was just here.
IDEAS IN FOOD
Future Food - Planet Green - On TV
Food Carts Portland
Bula Kava House | Portland, Oregon Kava Bar
Fresh Off the Boat
smitten kitchen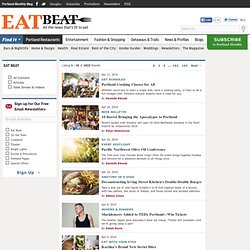 EAT BEAT Blog
Listing 1 - 10 of 1516 Results
SAVEUR.com - Authentic Recipes, Food, Drinks and Travel
Foodblog - Austin Bush Photography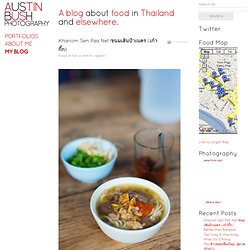 There's a widespread perception that Thai food is spicy. And justifiably so. Thai people — women in particular — seem to relish in eating devastatingly hot dishes, and even have a repertoire of only marginally translatable words to express the equal parts painful and pleasurable sensation of doing so (example: เผ็ดจนหูอื้อ, phet jon huu eu, roughly "so spicy your ears ring"). But it's certainly not the case that everything in Thailand is spicy. In fact, many of the dishes sold on the streets or from the shophouses of Bangkok — particularly those of Chinese origin — tend to be quite mild, sometimes bordering on bland.
Slashfood - Food News, Food Culture, Food Conversations
Full Fork Ahead |
Foodie Gossip
Endless Simmer
Eater PDX : The Portland Restaurant, Bar, and Nightlife Blog
Serious Eats: A Food Blog and Community