Foodie Stuff
Angry Asian Creations - i'm asian. i'm angry. i create. Rick Bayless & Frontera News: Gourmet Mexican Cooking. Bon Appetit Magazine. IndianSimmer - Indian food made easy plus more! Scanwiches. Tasteologie. Macheesmo - Learning to be Confident in the Kitchen. Hot Mama's Wings | Eugene Oregon. Chic'n Shack - Eugene, OR. Homemade Tater Tots. To freeze the Tots, follow the recipe through step 3.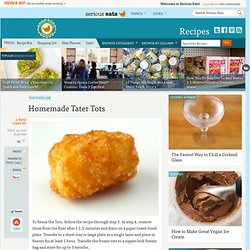 In step 4, remove them from the fryer after 1 1/2 minutes and drain on a paper towel-lined plate. Transfer to a sheet tray or large plate in a single layer and place in freezer for at least 1 hour. Transfer the frozen tots to a zipper-lock freezer bag and store for up to 3 months. Be careful not to overprocess potatoes or they will become sticky and gummy. If a few large chunks of potatoes remain, break them up with your fingers in the bowl. Burgers here and there | making exotic flavors un-scary, one burger recipe at a time, one country at a time. The Vortex Bar & Grill. IDEAS IN FOOD. I posted this picture of a "dumpling" on Twitter last weekend and it generated quite a response.
Many people felt that the word dumpling implied something small and I'll admit I was surprised when they set a plates of these in front of me. Of course looking back at the menu later I realized that they were actually, "pot stickers," shrimp and leek pot stickers to be exact. Future Food - Planet Green - On TV. Food Carts Portland. Bula Kava House | Portland, Oregon Kava Bar. Food. Fresh Off the Boat. Smitten kitchen. EAT BEAT Blog. Listing 1 - 10 of 1622 Results Prev123…162163Next Apr 11, 2014 Whether you'd like to learn a single dish, have a cooking party, or train to be a full-fledged chef, Portland culinary experts have a class for you.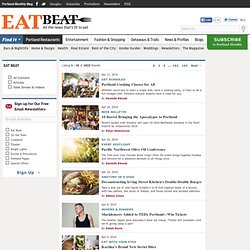 SAVEUR.com - Authentic Recipes, Food, Drinks and Travel. Foodblog - Austin Bush Photography. Most Thais are familiar with khanom jeen nam ngiaw (ขนมจีนน้ำเงี้ยว), the northern Thai staple of a pork- and tomato-based broth served over thin, fresh rice noodles.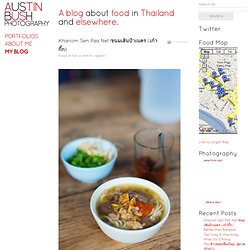 Yet few are aware of the variations the dish can take across the region. In Chiang Mai, nam ngiaw is often rich and oily, and is supplemented with the dried flowers of the cotton tree; in Chiang Rai the dish is hearty and meaty, and there's even a variant made with beef; and in Mae Hong Son, khao sen, as it's known there, tends to be thin and tart with very little meat. Even Phrae, a relatively obscure province in northern Thailand, has its own version. On the surface, khanom sen nam muu (ขนมเส้นน้ำหมู), as the dish is known there, appears deceptively simple. Slashfood - Food News, Food Culture, Food Conversations. Full Fork Ahead | Foodie Gossip. Endless Simmer. Eater PDX : The Portland Restaurant, Bar, and Nightlife Blog.
Serious Eats: A Food Blog and Community.
---