Foodie Stuff
Angry Asian Creations - i'm asian. i'm angry. i create.
Rick Bayless & Frontera News: Gourmet Mexican Cooking
IndianSimmer - Indian food made easy plus more!
Hot Mama's Wings | Eugene Oregon
Chic'n Shack - Eugene, OR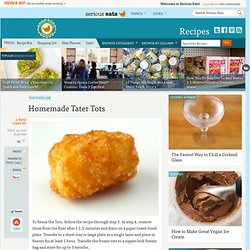 Homemade Tater Tots
To freeze the Tots, follow the recipe through step 3. In step 4, remove them from the fryer after 1 1/2 minutes and drain on a paper towel-lined plate. Transfer to a sheet tray or large plate in a single layer and place in freezer for at least 1 hour. Transfer the frozen tots to a zipper-lock freezer bag and store for up to 3 months. Be careful not to overprocess potatoes or they will become sticky and gummy. If a few large chunks of potatoes remain, break them up with your fingers in the bowl.
R-Gang Eatery: Food & Fun, Refueled™   :   619.677.2845
burgers here and there | making exotic flavors un-scary, one burger recipe at a time, one country at a time
The Vortex Bar & Grill
We started with our complete lobster process. Once the lobsters were prepared we were free to deviate and explore. We scored the underside of the lobster tail so that it would lay flat.
IDEAS IN FOOD
Food Carts Portland
Eugene Restaurants, Dentists, Bars, Beauty Salons, Doctors
Bula Kava House | Portland, Oregon Kava Bar
Fresh Off the Boat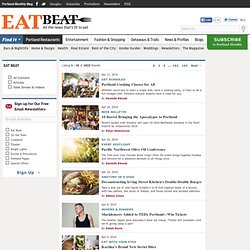 EAT BEAT Blog
Listing 1 - 10 of 1172 Results
Foodblog - Austin Bush Photography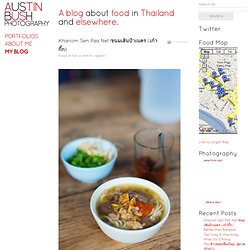 Lampang, in northern Thailand, is home to chaam traa kai (ชามตราไก่), Thailand's emblematic 'chicken bowls': so perhaps it's not surprising that I encountered some good noodle dishes there. Actually, exceptional is more accurate; I'd say that each of the below is among the best version of the dish I've encountered just about anywhere in the country. The noodle I keep on my radar when up north is khao soi , the dish of wheat-and-egg noodles in a curry broth. and with the help of food-based pamphlet printed by Lampang's tourism board (ของกินถูกใจ: Food You'll Like ), I was pointed in the direction of Omar.
Full Fork Ahead |
Foodie Gossip
Eater PDX : The Portland Restaurant, Bar, and Nightlife Blog