Inspirational
Smile+Listen+Agree.+I+respect+these+words_e7250f_3222448.jpg (651×481)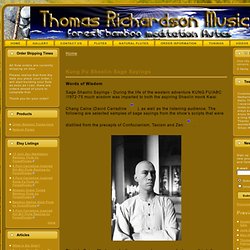 Kung Fu Shaolin Sage Sayings | Thomas Richardson Music - Kung Fu Flutes, Kill Bill Flute Replicas, Zen Flutes, Raga Flutes, &Quenas beautifully made here!
Sage Shaolin Sayings - During the life of the western adventure KUNG FU/ABC/1972-75 much wisdom was imparted to both the aspiring Shaolin monk Kwai Chang Caine (David Carradine ), as well as the listening audience. The following are selected samples of sage sayings from the show's scripts that were distilled from the precepts of Confucianism, Taoism and Zen . Disciple Caine: Master our bodies are prey to many needs: hunger, thirst, the need for love. Shall we then seek to satisfy these needs?
&Seven Blunders of the World& by Mahatma Gandhi
- StumbleUpon
An Essay by Einstein -- The World As I See It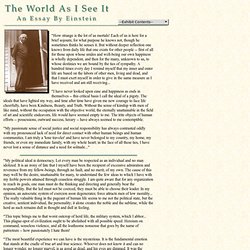 "How strange is the lot of us mortals! Each of us is here for a brief sojourn; for what purpose he knows not, though he sometimes thinks he senses it.
- StumbleUpon
- StumbleUpon
Bertrand Russells Message to the Future - StumbleUpon
Every Teenager Should See This
Posted by rd on Monday, August 15, 2011 · Mozambique based illustrator Alex Noriega loves drawing, reading and drawing even more. Alex was born and raised in Barcelona, went to Llotja, an art and illustration school also in Barcelona.
17 things no one probably have told you yet (comics by alex noriega) - wave avenue - StumbleUpon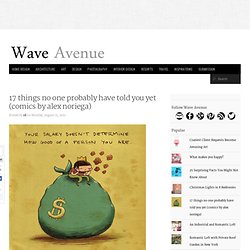 By It usually takes us much longer to change our moods than we'd like it to take. Here are ten things you can do in ten minutes or less that will have a positive emotional effect on you and those you love. . See it online at Oprah.com .
10 Life-Enhancing Things You Can Do in Ten Minutes or Less - StumbleUpon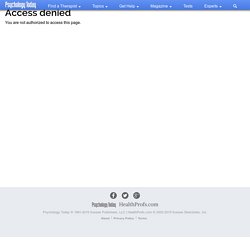 Inspirational quotes | #433 & From up North | Design inspiration & news - StumbleUpon
An old Cherokee told his grandson:
Facebook Quotes, Summer Quotes, Cute Quotes - StumbleUpon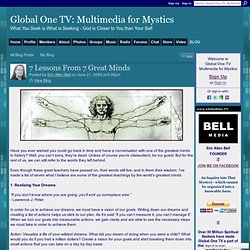 7 Lessons From 7 Great Minds - Global One TV
Have you ever wished you could go back in time and have a conversation with one of the greatest minds in history? Well, you can't sorry, they're dead. Unless of course you're clairaudient, be my guest. But for the rest of us, we can still refer to the words they left behind.
Find quotes about anything and everything - q.uote.it - StumbleUpon
Collected Quotes from Albert Einstein - StumbleUpon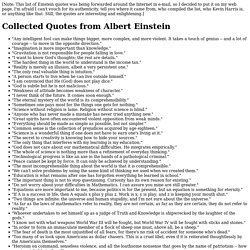 [Note: This list of Einstein quotes was being forwarded around the Internet in e-mail, so I decided to put it on my web page. I'm afraid I can't vouch for its authenticity, tell you where it came from, who compiled the list, who Kevin Harris is, or anything like that.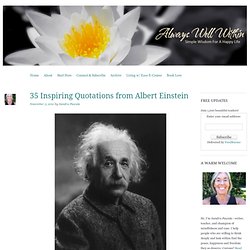 35 Inspiring Quotes from Albert Einstein & Always Well Within - StumbleUpon
Albert Einstein (March 14, 1879 – April 18, 1955), the famous theoretical physicist, developed the theory of relativity and is considered the father of modern physics. The nuclear physicist Robert Oppenheimer shared his impressions of Einstein by saying, "He was almost wholly without sophistication and wholly without worldliness . . . There was always with him a wonderful purity at once childlike and profoundly stubborn." Due to his brilliance Einstein was often called upon to offer opinions on topics beyond the realm of physics; thus the wide range of inspired quotations.
Sometimes All You Need Is A Little Inspiration to Keep Rolling - StumbleUpon
- StumbleUpon