Une histoire de l'Internet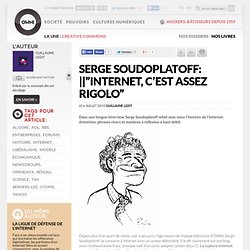 Serge Soudoplatoff: "Internet, c'est assez rigolo" » Article » OWNI, Digital Journalism
Dans une longue interview, Serge Soudoplatoff refait avec nous l'histoire de l'Internet. Attention, phrases chocs et matières à réflexion à haut débit. Depuis plus d'un quart de siècle, soit à peu près l'âge moyen de l'équipe éditoriale d'OWNI, Serge Soudoplatoff se consacre à Internet avec un amour débordant. Il le dit clairement sur son blog, avec l'enthousiasme franc, presque naïf, d'un early-adopter jamais déçu (?)
Café internet Nice, vidéo Café internet Nice, vidéo Economie et société Vie sociale - Archives vidéos Economie et société Vie sociale
Rubrique Internet, vidéo Rubrique Internet, vidéo Economie et société Vie économique - Archives vidéos Economie et société Vie économique
Le système Internet, vidéo Le système Internet, vidéo Economie et société Vie sociale - Archives vidéos Economie et société Vie sociale
Internet GIA, vidéo Internet GIA, vidéo Economie et société Justice et faits divers - Archives vidéos Economie et société Justice et faits divers
Internet, vidéo Internet, vidéo Economie et société Vie sociale - Archives vidéos Economie et société Vie sociale
Doctissimo, le portail médical : actualité santé.
Welcome to flickr.com!
Auctions: Beverly Hills 90210, Mother's Day gifts, Beanie Dollar Deals, Amazon.com Outlet Pre-order The World Is Not Enough on DVD or VHS, and check out our new James Bond Store. Give the Gift of Choice Mother's Day is May 14. Feel like you're running behind? Can't figure out what to buy?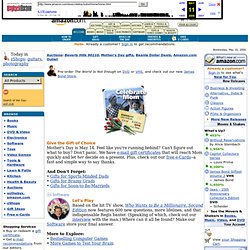 Earth's Biggest Selection
Dailymotion - Share Your Videos
Wikipedia: HomePage
HomePage | Recent Changes | Preferences | Receive an article a day! Welcome to Wikipedia, a collaborative project to produce a complete encyclopedia from scratch. We started in January 2001 and already have over 16,000 articles. We want to make over 100,000, so let's get to work--anyone can edit any article--copyedit, expand an article, write a little, write a lot. See the Wikipedia FAQ for information on how to edit pages and other questions. The content of Wikipedia is covered by the GNU Free Documentation License, which means that it is free and will remain so forever.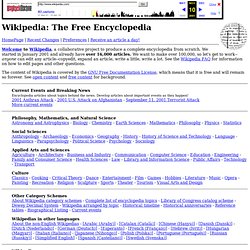 meetic, vous allez aimer !
YouTube - Broadcast Yourself.
Your Personal Trading Community
TechCrunch
Editor's Note: This is a profile of NewsGator's online product only, not its outlook, feeddemon and other products. There is a natural tendency to view NewsGator Online in comparison to Bloglines, as the products are both very popular and similar in many ways. Company: NewsGator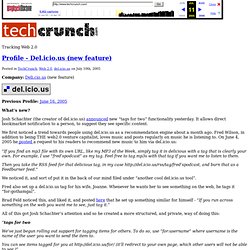 Myspace.com
Bienvenue sur Le Monde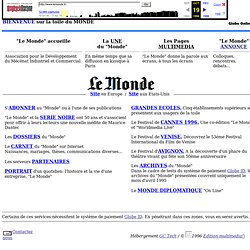 S'ABONNER au "Monde" ou à l'une de ses publications "Le Monde" et la SERIE NOIRE ont 50 ans et s'associent pour offrir à leurs lecteurs une nouvelle inédite de Maurice Dantec Les DOSSIERS du "Monde" Le CARNET du "Monde" sur Internet Naissances, mariages, thèses, communications diverses...
Google!
Yahoo!
Facebook | Welcome to Facebook!
Rubrique : informatique Internet, vidéo Rubrique : informatique Internet, vidéo Sciences et techniques Nouvelles technologies - Archives vidéos Sciences et techniques Nouvelles technologies
The Ultimate Guide To Internet Statistics
We all know the Internet is huge. In fact, it's apparently growing faster than ever before. Need proof? Here are a few of the most important and engaging videos and statistics that are making the rounds on the Internet. These are truly staggering and could be very helpful in engaging a class with questions like "how much of all e-mail do you think is spam?" and "how many e-mails are sent each year?
State of The Internet
A LIFE ON FACEBOOK.
Quand Serge Soudoplatoff nous parle d'Internet (et des mutations organisationnelles qu'il engendre) c'est non seulement accessible au grand public mais c'est surtout tout à fait passionnant. Très à l'aise devant son auditoire, Serge Soudoplatoff réussit la gageure de partir un peu dans tous les sens (avec exemples, citations et anecdotes à l'appui) tout en restant cohérent avec sa ligne directrice. Une intervention de 45 minutes donnée le 4 juillet 2008 au CEDAP et intitulée : « Comment Internet change nos organisations » Loaded: 0% Progress: 0%