Tee-shirt
Arteest. Tee-Shirt musique, T-shirt Rock, Rap, Electro, Techno, Pop, Funk, Soul, Jazz : T-shirt Original Music Shirt. THE QUIET LIFE. Arteest. Arteest / 1 month, 1 designer, 1 collection. Les collections Arteest. Ils ont créé Arteest. Ils parlent d'Arteest. Arteest s'engage. Mayor of Your Mom. Vintage Rock T-Shirts | Worn Free. BePriv Paris.
I love your tshirt, your t-shirt magazine. Retro Campaigns - Classic Political T-Shirts. Altru Apparel Men's and Women's T-Shirts, Vintage Logo Olympic T. I Went to Hell... T-Shirt I Went to Hell and all I Got was this.
Threadless graphic t-shirt designs; cool & funny t-shirts weekly. One girl two hands love ink blackbird tees by blackbirdtees. Hello and welcome to our shop!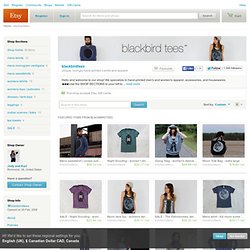 We specialize in hand-printed men's and women's apparel, accessories, and housewares. ◀◀◀ Use the SHOP SECTIONS to your left to navigate. ▷▷ INTERNATIONAL BUYERS (especially EU buyers) - Please take into account that items may be held for additional import/VAT fees in your country of residence. NYILLUSTRATION by NYILLUSTRATION. Welcome to NYillustration - eco friendly screenprints of original illustrations on ethically manufactured cotton clothing.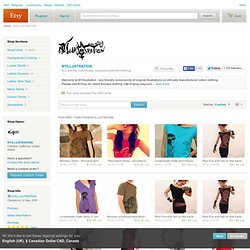 Please visit NYhop for rabbit-themed clothing: NYillustration is on Facebook: - all of the clothing on sale here is individually hand-screened and made to order - this means all clothing is customizable, just leave a note with details of your custom printing requests on the checkout page. Teez. Магазин дизайнерских футболок. ARTIST SERIES.
Rakes & Strays™ | Men's Clothing - Mens Fashion - Designer Cloth. Atomic Tarantula. History. Octopus on a Bike American Apparel Brown by darkcycleclothing. Poyz and Pirlz Store.
---