Inspirations
Inspirations lumières. Inspirations cuisine. The gif player « Pieterjan Grandry. As focus point for 'The animated gif exhibition' I designed a device which is able to play an animated gif.
An animated gif is a digital file format where multiple images are being looped after each other, creating a short and small sized movie clip. The file type was first introduced in 1987 as a first online movie, but soon lost its function with the increasing speed of internet and the possibility to upload longer and bigger movies. The document type however has gained back some of its popularity and is even entering the field of Art today. Photoaddfriend. Villa Wohnzimmer : 500m² de design en Autriche | Archiboom, l'architecture et le design par ceux qui les font ! - Blog CotéMaison. Cette propriété, conçu par Caramel, a la particularité d'avoir un terrain de 500 mètres carrés avec une grande prairie.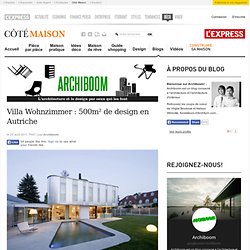 Située à Wien, en Autriche, la maison possède quatre niveaux, trois au dessus du sol et un en dessous, pour donner un total de 300 m² de surface habitable. Le salon et salle à manger du rez-de-chaussée sont ouverts au maximum sur le jardin et la terrasse pour donner la sensation d'être dans un très grand espace.
Le sol du rez-de-chaussée et la façade de l'étage sont composés d'éléments en polycarbonate semi-transparent, un dérivé du plastique très résistant, ce qui accentue encore le sentiment d'espace grâce à sa transparence.
---