Music
Cloud
Marketing. Comes. The Three Things Spotify Needs to Do. Spotify is certainly the darling of the moment.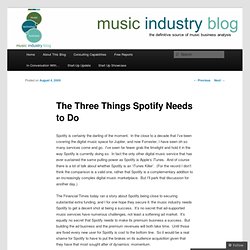 In the close to a decade that I've been covering the digital music space for Jupiter, and now Forrester, I have seen oh so many services come and go. I've seen far fewer grab the limelight and hold it in the way Spotify is currently doing so. In fact the only other digital music service that has ever sustained the same pulling power as Spotify is Apple's iTunes. Let's sponsor an El Sistema USA music fellow ! - TEDChris: Why music artists are encouraging a generation of freeloaders. With record deals no longer perceived as a revenue model by music artists, bands are dishing out their music free of cost through online downloads, even encouraging you to rip CDs to share with friends.
Bhairavi Jhaveri finds out why online piracy is the perfect strategy to expand fan base Delhi-based Pop-Rock group Them Clones encourage you to rip their CD and share it with friends.
---