Iphone
Brands
Android. Freemium. A New Venue for Indie Films: Your iPhone. Did you see the latest Jude Law movie?
The film, a murder mystery from art house director Sally Potter takes place in Manhattan's fashion world and features other famous actors including Dame Judi Dench, Steve Buscemi, John Leguizamo, and Dianne Wiest. "Rage," as the film is called, isn't all that remarkable in and of itself, but the way it's being distributed is: via mobile phones. Choosing to forgo the typical theatrical release, Potter went an entirely different route for her new indie flick: Rage premiered exclusively on the iPhone. Released last week through the iPhone/iPod Touch mobile application Babelgum (iTunes link), the film represents the first ever attempt to distribute a feature film for free by way of mobile phones. Digital iPhone cheapskates. So, I'm tracking the success of Tweetie 2.0, which was released yesterday (it is currently the number one highest grossing app on iPhone today in USA).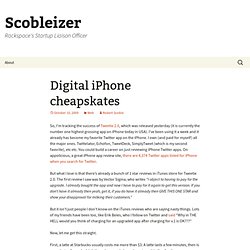 I've been using it a week and it already has become my favorite Twitter app on the iPhone. I own (and paid for myself) all the major ones. Twittelator, Echofon, TweetDeck, SimplyTweet (which is my second favorite), etc etc. You could build a career on just reviewing iPhone Twitter apps. iPhone App Logos: 10 of the Best and Worst - CIO.com - Business. Cydia "App Store" now officially open iPhon.
The much talked about Cydia Store (that we reported on last week) is now open and ready for business.
It is not a separate application – just an update to Cydia that adds in the ability to purchase jailbreak apps within the program. Initially the Cydia Store is using Amazon Payments, but there are plans to support Paypal very soon (later this week according to a recent post from Cydia's developer), good news for the majority that use PayPal. How to Create Your First iPhone Application - Smashing Magazine.
Advertisement Update: 01/10/2012: The original version of this article by Jen Gordon was published in August 2009.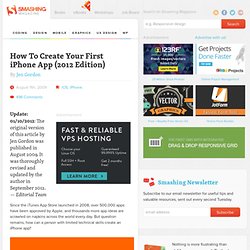 It was thoroughly revised and updated by the author in September 2012. — Editorial Team Since the iTunes App Store launched in 2008, over 500,000 apps have been approved by Apple, and thousands more app ideas are scrawled on napkins across the world every day. Does number of app downloads trump consumer engagement? - Mobile. By Dan Butcher October 2, 2009 1-800-Flowers' mobile commerce app Apple announced this week that more than two billion applications have been downloaded from its App Store.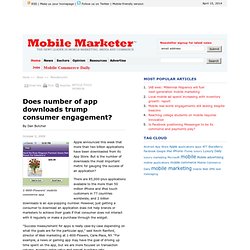 ---