Augmentedreality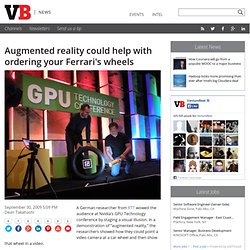 A German researcher from RTT wowed the audience at Nvidia's GPU Technology conference by staging a visual illusion. In a demonstration of "augmented reality," the researchers showed how they could point a video camera at a car wheel and then show that wheel in a video. In the video, the wheel can be enhanced with computer graphics. You could, for instance, show in the video what different types of car wheels would look like on your Ferrari.
Augmented reality could help with ordering your Ferrari's wheels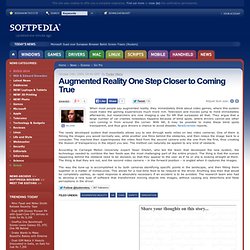 Augmented Reality One Step Closer to Coming True - It could pote
When most people say augmented reality, they immediately think about video games, where this system could make the gaming experiences much more rich. Television and movies jump to mind immediately afterwards, but researchers are now imaging a use for AR that surpasses all that. They argue that a large number of car crashes nowadays happens because of blind spots, where drivers cannot see other cars coming in from around the corner.
Technology Review: Blogs: TR Editors' blog: What's Nex
The Secret Ingredient Is Love Augmented Reality - Augmented real
Technology Review: What's Augmented Reality's Killer A