OpenFlow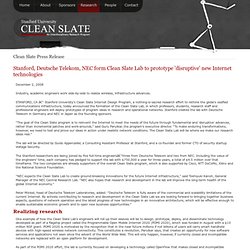 Clean Slate Press Release
December 2, 2008 Industry, academic engineers work side-by-side to realize wireless, infrastructure advances. STANFORD, CA – Stanford University's Clean Slate Internet Design Program, a nothing-is-sacred research effort to rethink the globe's ossified communications infrastructure, today announced the formation of the Clean Slate Lab, in which professors, students, research staff and professional engineers will deploy prototypes of program ideas in research and operational networks.
OpenFlow: A Technology on the Move — Cloud Computing News
OpenFlow may be one of the hotter buzzwords in bleeding-edge networking technologies these days, but getting past the emotional exuberance and down to brass tacks in this area can be difficult. Why? First,the OpenFlow protocol is a sort of infrastructure-of-infrastructure that can be applied many places. Second, OpenFlow continues to pop up in new contexts as the ecosystem around the technology expands. This is a story of an engineering achievement built to solve one problem that has become the root of a veritable family tree of solutions for problems in the networking space. How OpenFlow got here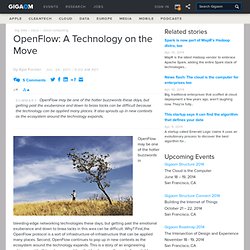 HP OpenFlow capable firmware is now GA December 7th, 2011 by Masa OpenFlow capable firmware for HP switches is now available without requiring special license. It can be downloaded by customers/partners from HP's website. Current version is K.15.05.5001(for OpenFlow researchers only) as Early Availability and here is how I downloaded it: Go to http://www.hp.com/networking/supportYou will be required to sign-in to download the firmware.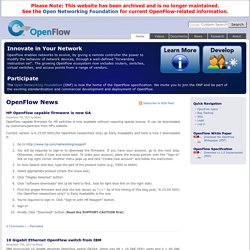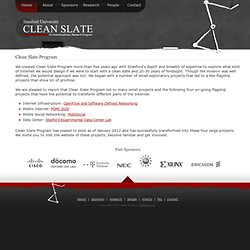 We created Clean Slate Program more than five years ago with Stanford's depth and breadth of expertise to explore what kind of Internet we would design if we were to start with a clean slate and 20-30 years of hindsight. Though the mission was well defined, the potential approach was not. We began with a number of small exploratory projects that led to a few flagship projects that show lot of promise. We are pleased to report that Clean Slate Program led to many small projects and the following four on-going flagship projects that have the potential to transform different parts of the Internet.
Clean Slate Design for the Internet
Clean Slate Press Release