OpenFlow
Clean Slate Press Release. December 2, 2008 Industry, academic engineers work side-by-side to realize wireless, infrastructure advances.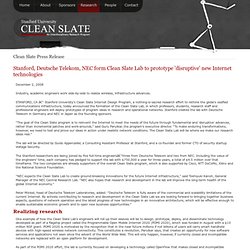 STANFORD, CA – Stanford University's Clean Slate Internet Design Program, a nothing-is-sacred research effort to rethink the globe's ossified communications infrastructure, today announced the formation of the Clean Slate Lab, in which professors, students, research staff and professional engineers will deploy prototypes of program ideas in research and operational networks. OpenFlow: A Technology on the Move — Cloud Computing News.
OpenFlow - Enabling Innovation in Your Network. Clean Slate Design for the Internet. Clean Slate Press Release.
---