Campaigns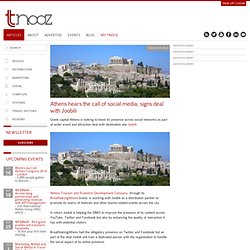 Greek capital Athens is looking to boost its presence across social networks as part of wider event and attraction deal with destination site Joobili . Athens Tourism and Economic Development Company , through its BreathtakingAthens brand, is working with Joobili as a distribution partner to promote its reams of festivals and other tourist-related events across the city. In return Joobili is helping the DMO to improve the presence of its content across YouTube, Twitter and Facebook but also by enhancing the quality of interaction it has with potential visitors.
Athens hears the call of social media, signs deal with Joobili |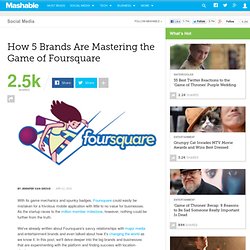 How 5 Brands Are Mastering the Game of Foursquare
With its game mechanics and spunky badges, Foursquare could easily be mistaken for a frivolous mobile application with little to no value for businesses. As the startup races to the million member milestone , however, nothing could be further from the truth. We've already written about Foursquare's savvy relationships with major media and entertainment brands and even talked about how it's changing the world as we know it. In this post, we'll delve deeper into the big brands and businesses that are experimenting with the platform and finding success with location-sharing. For proof that Foursquare is a viable tool for businesses, take a gander at the City of Chicago and their efforts to make city exploration fun with Foursquare , the Wynn Las Vegas' unique approach to top notch service, Tasti D-Lite's efforts to redefine the customer loyalty program, Lucky Magazine's interest in taking their editorial content to the streets and Starbucks' desire to better understand their customers. 1.
Chalk it up to April Fool's Day paranoia, but when we came across news that the official Travelocity gnome was using Chatroulette for business purposes we were a tad skeptical. The screenshots sent to us by Travelocity confirm that the gnome is lurking within Chatroulette's mysterious corridors. His presence there is to motivate video chatters to step away from their webcams and take vacations.
Travelocity Gnome Moonlights on Chatroulette [PICS]