Tools
Google Social Search : recherche dans votre réseau social. Google Social Search est un nouveau service de recherche que Google teste actuellement dans ses Labs.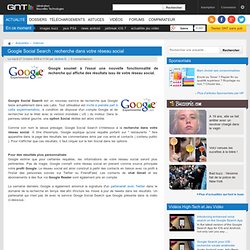 Tout utilisateur est invité à prendre part à cette expérimentation, à condition de disposer d'un compte Google et de rechercher sur le Web avec la version mondiale ( US ) du moteur. Dans le panneau latéral gauche, une option Social dédiée est alors visible. Facebook Analytics: Part I – The Measurable Ecosystem | John Lovett at Web Analytics Demystified. 2010 is shaping up to be the year of social media measurement and March is the month for measuring Facebook.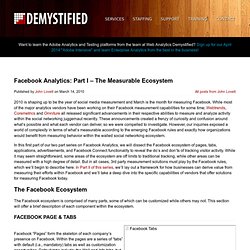 While most of the major analytics vendors have been working on their Facebook measurement capabilities for some time; Webtrends, Coremetrics and Omniture all released significant advancements in their respective abilities to measure and analyze activity within the social networking juggernaut recently. These announcements created a frenzy of curiosity and confusion around what's possible and what each vendor can deliver, so we were compelled to investigate.
However, our inquiries exposed a world of complexity in terms of what's measurable according to the emerging Facebook rules and exactly how organizations would benefit from measuring behavior within the walled social networking ecosystem. Setting-Up a Facebook Business Page: What to Know. November 19, 2007 5:30 AM EST Facebook now allows users to create dedicated "pages" for businesses, products, brands, etc.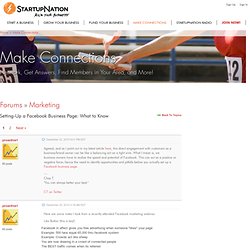 I setup our page this weekend and thought I would share some insights for those thinking about doing this. 1. » Comment intégrer un onglet d'accueil à sa page Facebook ? // Mise à jour juillet 2011 >> Remarque importante : depuis quelques mois déjà, Facebook ne permet plus l'ajout de l'application Static FBML décrite ci-dessous.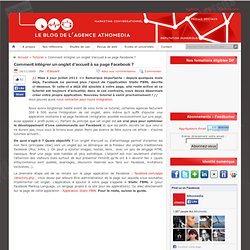 Si celle-ci a déjà été ajoutée à votre page, elle reste active et ce tutoriel est toujours d'actualité; dans le cas contraire, vous devez désormais créer votre propre application. Nouveau tutoriel à venir prochainement ! Feed43 : Convert any web page to news feed on the fly. Facebook Group RSS Feed. Comment créer un fil RSS à partir d'un groupe Facebook. Facebook : utiliser les applications pour votre business. Réseau social et communauté virtuelle de plus de 200 millions d'utilisateurs, la plate-forme communautaire Facebook est devenue en quelques années un site incontournable du web sur lequel il est indispensable d'être référencé.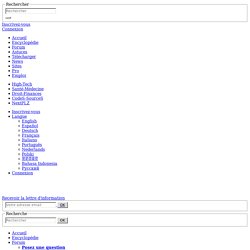 Note : Avant de continuer, nous vous recommandons de lire dans un premier temps cet article pour vous familiariser un peu plus avec Facebook. A quoi servent les applications ? Puisque avoir une présence sur Facebook est plus que recommandé pour une entreprise, pourquoi ne pas pousser encore plus loin les avantages qu'offre cette immense plate-forme ? Ce sont ainsi les objectifs que s'est fixé Facebook en mettant à disposition de nombreuses applications destinées à enrichir les profils de membres. How to Widget ? - Widget Marketing & Netvibes. Cree una página en Facebook para su empresa. Con mas de 200 millones usuarios inscritos, Facebook se ha convertido en una de las plataformas de red social más populares.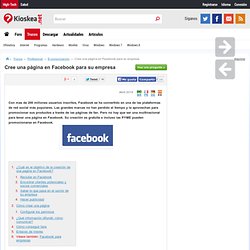 Las grandes marcas no han perdido el tiempo y la aprovechan para promocionar sus productos a través de las páginas de fan. Pero no hay que ser una multinacional para tener una página en Facebook. Facebook : inviter tous ses amis en même temp. Salut à tous amis internaute, Bon puisque personne ne veut répondre sans faire de chantage, moi je vous donne le lien à rentrer dans la barre d'adresse ( là où il y a écrit " " ) .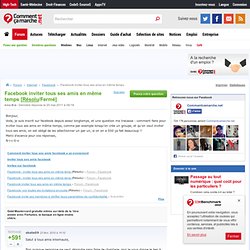 Mais d'abord, allé sur votre petite fenêtre pour inviter vos amis et copier coller ensuite le lien suivant: Social Networking in your Email Signature.
---