Chine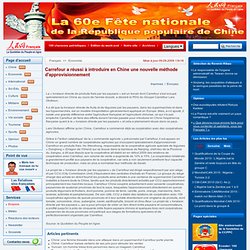 Carrefour a réussi à introduire en Chine une nouvelle méthode d'approvisionnement
Carrefour a réussi à introduire en Chine une nouvelle méthode d'approvisionnement La « livraison directe de produits frais par les paysans » est un travail dont Carrefour s'est occupé spécialement en Chine au cours de l'année écoulé, a déclaré le PDG du Groupe Carrefour Lars Olofsson. Il a dit que la livraison directe de fruits et de légumes par les paysans, dans les supermarchés et dans les hypermarchés, est un modèle d'exploitation généralement appliqué en Europe.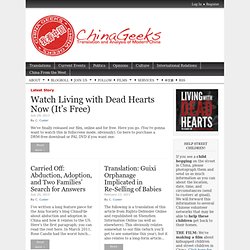 Carried Off: Abduction, Adoption, and Two Families' Search for Answers I've written a long feature piece for the Asia Society's blog ChinaFile about abduction and adoption in China and how it relates to the US. Here's the first paragraph; you can read the rest here.
ChinaGeeks | analysis and translation of modern China | media, censorship, injustice, and more in modern China
Le blog de Chloé
Une cour d'école à Yicheng "Le plus dur métier du monde" c'est ainsi que Feng Caishan se souvient de son travail, il y a 30 ans. Il était alors responsable de l'application de la loi de l'enfant unique à Yicheng une région rurale du Shanxi.