Fairytales
Princess Tutu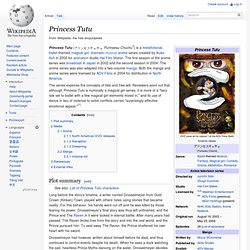 Princess Tutu ( プリンセスチュチュ , Purinsesu Chuchu ? ) is a magical girl anime series created by Ikuko Itoh in 2002 for animation studio Hal Film Maker . It was adapted as a 2-volume manga illustrated by Mizuo Shinonome .
The Three Sisters is an Italian literary fairy tale written by Giambattista Basile in his 1634 work, the Pentamerone . [ edit ] Synopsis A woman had three daughters; the two older were very unlucky but the youngest , Nella, was very fortunate. A prince married her and hid her from his wicked mother, visiting her in secret. She could throw a powder in a fire, and he would come to her on a crystal road. Her sisters discovered this and broke the road, so that the prince was injured when he was coming to her.
The Three Sisters (fairy tale)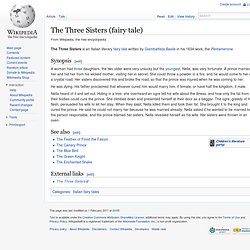 Aarne–Thompson classification system
The Aarne–Thompson tale type index is a multivolume listing designed to help folklorists identify recurring plot patterns in the narrative structures of traditional folktales , so that folklorists can organize, classify, and analyze the folktales they research. First developed by Antti Aarne (1867–1925) and published as Verzeichnis der Märchentypen in 1910, the tale type index was later translated, revised, and enlarged by Stith Thompson (1885–1976) in 1928 and again in 1961. [ 1 ] The Aarne–Thompson tale type index is an essential tool for folklorists because, as Dundes explains, "the identification of folk narratives through motif and/or tale type numbers has become an international sine qua non among bona fide folklorists". [ 1 ] Since the tale type index concerns the motif structures of folktales, it focuses more on the morphology of folktales than on the details of their characters' actions.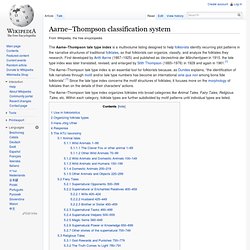 Russian Fairy Tales: Spirits
Russian terms are transliterated according to the Library of Congress system , with the stressed vowel indicated by bold type . Parenthesized numbers refer to pages in Ivanits's book. Domestic Spirits The protectors of the house and the farmstead.
In Slavic folklore , Koschei ( Russian : Коще́й , tr. Koshchey ; IPA: [kɐˈɕːej] , also Kashchei or Kashchey ; Ukrainian : Кощій , Koshchiy ; Polish : Kościej ; Czech : Kostěj ) is an archetypal male antagonist, described mainly as abducting the hero's wife. None of the existing tales actually describes his appearance, though in book illustrations, cartoons and cinema he has been most frequently represented as a very old and ugly-looking man. Koschei is also known as Koschei the Immortal or Koschei the Deathless ( Russian : Коще́й Бессме́ртный , Ukrainian : Кащик невмирущий , Czech : Kostěj nesmrtelný ), as well as Tzar Koschei . As is usual in transliterations, there are numerous other spellings, such as Koshchei, Kashchej and Kaschei. The spelling in Russian and other Slavic languages (like Polish "Kościej" or Czech "Kostěj") suggests that his name may be derived from the word kost ' (rus. кость, pol. kość) meaning 'bone', implying a skeletal appearance. [ citation needed ]
Koschei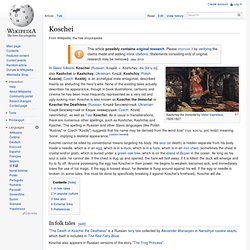 " Tsarevitch Ivan , the Fire Bird and the Gray Wolf" is a Russian fairy tale collected by Alexander Afanasyev in Narodnye russkie skazki . [ 1 ] It is Aarne-Thompson type 550, the quest for the golden bird/firebird. Others of this type include " The Golden Bird ", " The Greek Princess and the Young Gardener ", "The Bird 'Grip ' " , " How Ian Direach got the Blue Falcon ", and " The Nunda, Eater of People ". [ 2 ] [ edit ] Synopsis A king's apple tree bore golden apples , but every night, one was stolen. Guards reported that the Firebird stole them.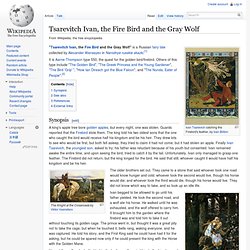 Tsarevitch Ivan, the Fire Bird and the Gray Wolf
Baba Yaga
Baba Yaga by Ivan Bilibin Click on image for larger version In Russian folklore there are many stories of Baba Yaga, the fearsome witch with iron teeth.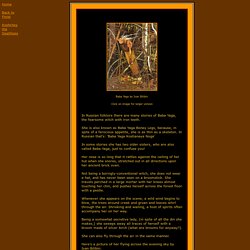 Babushka Baba Yaga
Babushka Baba Yaga Activity Ideas Although Baba Yaga of "Babushka Baba Yaga" is known throughout Russia as a "terrible, horrible" creature that eats children, she is really a very sweet woman who exhausts her days watching in admiration of the village babushkas. How she does wish to have a grandchild of her own! One day she decides to dress up as a babushka and go into the village in search of a grandchild to love.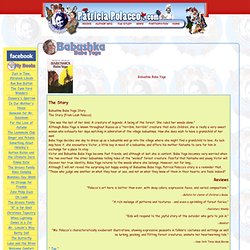 The following inventory and discussion of Russian pagan gods is taken from Linda Ivanits, Russian Folk Belief, Armonk: M. E. Sharpe, 1989. Russian words are transliterated according to the Library of Congress system , with the stressed vowel indicated by bold type . Numbers in parentheses are page references to Ivanits's book. D a zhbog
Russian Fairy Tales: Pagan Gods
Swan Maidens
Folktales of Type 400 edited by D.