Agroforestry
Forestry and Agroforestry Trees. Welcome to the Hawaii Forestry and Agroforestry Trees website.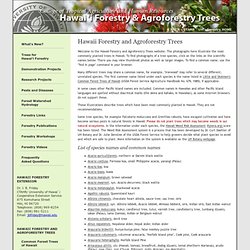 The photographs here illustrate the most commonly planted trees in Hawaii. To find photographs of a tree species, click on the links on the scientific names below. There you may view thumbnail photos as well as larger images. Centre for Northern Agroforestry and Afforestation. Silvopastoral Agroforestry Toolbox. This site was created by the Macaulay Land Use Research Institute with the help of the UK Agroforestry Forum to help farmers, land managers and their advisors assess the potential of sillvopastoral agroforestry as an alternative land use and to provide information on how to manage a silvopastoral agroforestry system.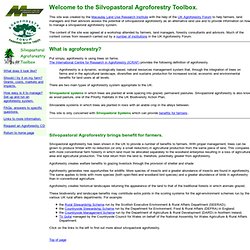 The content of the site was agreed at a workshop attended by farmers, land managers, forestry consultants and advisors. Much of the content comes from research carried out by a number of institutions in the UK Agroforestry Forum. Center for Subtropical Agroforestry. AFTA - Association for Temperate Agroforestry. The Center for Agroforestry at the University of Missouri. Agroforestry Net -- Agroforestry Information Resources. World Agroforestry Centre | TRANSFORMING LIVES AND LANDSCAPES. Coppice Agroforestry - Perennial Silviculture for the 21st Century - The Book.
Agroforestry research trust fruits nuts seeds plants publications. Agroforestry. Agroforestry or agro-sylviculture is an integrated approach of using the interactive benefits from combining trees and shrubs with crops.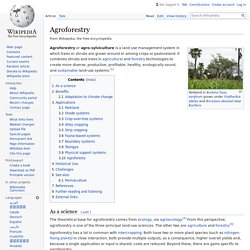 It combines agricultural and forestry technologies to create more diverse, productive, profitable, healthy, and sustainable land-use systems.[1] A narrow definition of agroforestry is "trees on farms. "[2] As a science[edit] The theoretical base for agroforestry comes from ecology, via agroecology.[3] From this perspective, agroforestry is one of the three principal land-use sciences. Anthropogen. Agroforestry and the Built-Environment – By Spencer Woodard « Note: This is a portion of an essay I wrote a number of years ago (in 2007) and is best read in conjunction with two additional articles I have posted on this site: Chinampa: Raised-Bed Hydrological Agriculture and The Domesticated Landscapes of Los Llanos de Moxos, Bolivia.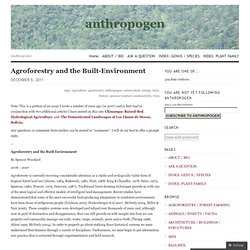 Any questions or comments from readers can be posted in "comments". I will do my best to offer a prompt reply. Agroforestry and the Built Environment By Spencer Woodard Agroforestry is currently receiving considerable attention as a stable and ecologically viable form of tropical forest land use (Alcorn, 1984; Budowski, 1981; Hart; 1988; King & Chandler, 1978; Salas, 1979; Spureon, 1980; Weaver, 1979; Denevan, 1987).
---