HBR Insights
Human Nature. Mentoring the next generation - a challenge to the SA creative industry. There is no doubt that South Africa's advertising industry is already present on the world stage.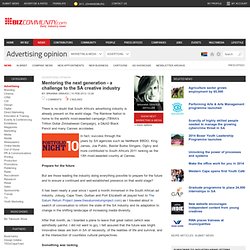 The Rainbow Nation is home to the world's most-awarded campaign (TBWA's Trillion Dollar Zimbabwean Campaign), a D&AD Black Pencil and many Cannes accolades. In fact, success through the years by SA agencies such as Net#work BBDO, King James, Joe Public, Bester Burke Slingers, Ogilvy and more contributed to South Africa's 2011 ranking as the 13th most-awarded country at Cannes. Job Descriptions and the "Experience-Needed" Syndrome - Tammy Johns.
By Tammy Johns | 11:42 AM April 5, 2012 Globally, one in three employers struggle to find employees with the skills and experience necessary to meet their needs, and almost one-third cite a lack of experience as a key barrier to filling their open jobs.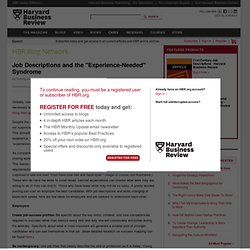 Despite the serious shortage of some skills, the disconnect between employers and job seekers is not surprising given how many job descriptions fall victim to the "experience-needed syndrome." Scott Gerber - Young Entrepreneur, Media Personality, Author, Speaker & Founder of YEC. Why Social Marketing Is So Hard - Nilofer Merchant. Brands are spending a great deal of time and energy investing in platforms to get likes or pluses, and not really being social at all.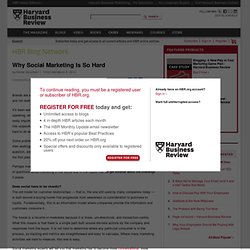 It's been well over 15 years since the social era started. So many brilliant people have been writing, speaking, and sharing case studies over that length of time, that if I only listed a few, I'd miss some really important thinkers. The Right Entry Point for Emerging Markets - Scott Anthony. By Scott Anthony | 9:06 AM March 12, 2012 I recently participated in a spirited panel discussion with Bruce Brown, Procter & Gamble's Chief Technology Officer, and Erich Joachimsthaler, Vivaldi Partners' managing director and CEO.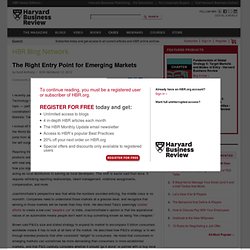 The topic — part of a series on innovation sponsored by Singapore's Economic Development Board and coordinated by Harvard Business Review — was "What's the Right Entry Point for Emerging Markets: Target Customers at the Bottom or the Middle of the Pyramid?" I kicked off the discussion by arguing that many companies ought to start in the middle. After all, the World Bank estimates that the number of middle class consumers in emerging markets will jump from 420 million today to more than 1.2 billion by 2030.
In Asia alone, spending in that market tier will surge during that time period from $5 trillion to $30 trillion. East Meets West: Who Has Better Leaders? - Scott Edinger. By Scott Edinger | 11:50 AM February 15, 2012 I recently returned from a trip to Beijing where I was working with senior managers to develop leadership skills in one of the largest companies in the world.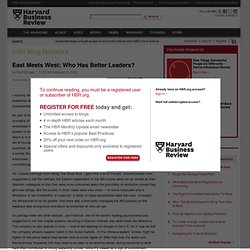 This is a truly global firm, with headquarters in China and the U.S., and most of its leaders are native to their respective countries. Why Some Ads Go Viral and Others Don't - Video. How Employers Can Help Solve the Skills Gap - David Smith. In my consulting work with large, multinational companies, I see a pervasive anxiety among managers who have trouble finding people for skilled positions, no matter what industry or region.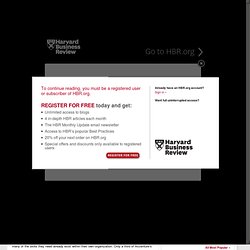 At the same time, employees are just as stressed about the growing skills gap, Accenture research shows, and most of them are unclear about which skills they need to advance their careers. There's a lot at stake here. The mismatch between the skills that companies need and the capabilities of people applying for job openings can result in delays in product releases, lower customer satisfaction, and loss of revenue. For instance, at one U.S. medical-device maker, a planned new heart defibrillator had to be scrapped after five years of expensive effort because the company's quality engineers did not meet federal requirements — due to their inadequate knowledge and skills. It's Harder than Ever to Be a Senior Executive - Boris Groysberg.
By Boris Groysberg | 2:30 PM February 13, 2012 The job of the senior executive is much more complicated today than it was a decade or two ago — and that trend will continue, especially if you hope to play on a global stage (which is a nearly universal condition these days for many companies).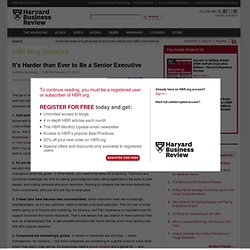 Why? The Market that Needs a Market Maker - Tammy Johns. By Tammy Johns | 10:07 AM February 16, 2012 Do you wonder why there were an average of 8 million jobs posted online in the U.S. every month of last year, while 13 million people continued to search for work during the exact same months?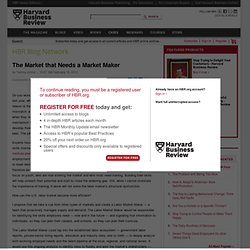 The reason is that the U.S. — along with just about every other country — is suffering from a talent mismatch: employers cannot find individuals with the skills and capabilities they need, where and when they need them. The problem is not just one of location and timing, however. The New Path To the C-Suite. The Idea in Brief The skills needed for top jobs change with the times.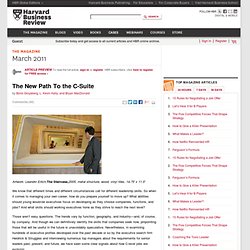 The résumés of today's C-level managers look much different from those of their predecessors from 10 or 20 years ago. Managing Yourself: Making It Overseas. When Alan, a rising star at a U.S.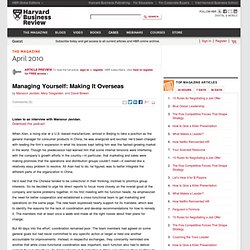 -based manufacturer, arrived in Beijing to take a position as the general manager for consumer products in China, he was energized and excited. He'd been charged with leading the firm's expansion in what his bosses kept telling him was the fastest-growing market in the world. Though his predecessor had warned him that some internal tensions were interfering with the company's growth efforts in the country—in particular, that marketing and sales were making promises that the operations and distribution groups couldn't meet—it seemed like a relatively easy problem to resolve. All Alan had to do, he figured, was to better integrate the different parts of the organization in China.
Insight Center: The Next Generation of Global Leaders - Sponsored by Accenture. S 10 Must Reads on Managing Yourself (with bonus article "How Will You Measure Your Life?" by Clayton M. Christensen) Ebook indicates that you would like to purchase and download a digital book in PDF, ePub, and Mobi formats. Hardcopy indicates that you would like to have "hardcopies" shipped from our warehouse to your requested shipping location. PDF indicates that you would like to purchase and download a single copy (digital) PDF file. Why We Use Social Media in Our Personal Lives — But Not for Work - Tammy Erickson.
By Tammy Erickson | 12:05 PM February 16, 2012 "We've spent a fortune on collaborative technology, but no one is using it … or if they are, it's for purely social, non-productive activities." Sound familiar? It's a lament I've heard many times from organizations over the past several years. Most leaders are sold on the tremendous potential new collaborative technologies present to change the way work gets done: increasing productivity, stimulating innovation, and enhancing employee engagement. But realizing the benefits is proving to be a frustrating challenge for many. Is the Next Karl Marx a Management Consultant? - Justin Fox. By Justin Fox | 2:30 PM January 25, 2012 Wouldn't it be nice, Francis Fukuyama writes in an article called "The Future of History" in the current issue of Foreign Affairs, if some "obscure scribbler … in a garret somewhere" would "outline an ideology of the future that could provide a realistic path toward a world with healthy middle-class societies and robust democracies."
This ideology, Fukuyama goes on: could not begin with a denunciation of capitalism as such, as if old-fashioned socialism were still a viable alternative. It is more the variety of capitalism that is at stake and the degree to which governments should help societies adjust to change. How to Innovate When You're Not the Big Boss - John Beeson.
By John Beeson | 11:20 AM February 15, 2012 A few years ago, Brad Anderson, then CEO of Best Buy, told me something both provocative and profound. We were discussing what he looked for in selecting someone for a C-suite level role. Understanding Female Talent in Emerging BRIC Markets - Sylvia Ann Hewlett. By Sylvia Ann Hewlett | 9:46 AM January 30, 2012 Julia Jia was the first girl from her small village in Shandong Province to go to university. Now 30, she works for Louis Vuitton China's retail department and would like to have a career in luxury goods, perhaps in sales development or public relations. "Of course, I want to be in top management," Jia says, echoing the high-flying aspirations that have catapulted so many Chinese women into the business elite.
Privilege: A User's Guide - Gianpiero Petriglieri - HBS Faculty. Prepare for an Interview by Thinking Like an Employer - Bill Barnett. The Best Global Leaders are Local Leaders - Ndubuisi Ekekwe. An Introvert's Guide to Networking - Lisa Petrilli. Develop Leaders the Montessori Way - Ambiga Dhiraj.