Web 2.0
Little Book of Superb Sites. QRhacker.com - Pimp your code! Toolkit A-Z for Education - PTCweb2. Academic Earth - repository of inspirational educational videos; Used online; Free Activote - pupil voting system for use with Promethean boards; Hardware A.map - use diagrams to provoke discussion & debate; Used online; Free Animoto for Education - make a simple slideshow from still images; Used online, Free.
Dashboard — Thinglink. Home. ClassTools.net: Create interactive flash tools / games for education. Moviemaker. Make digital movies online. Formerly Dfilm. Make. 22 Filmmaking Apps for the iPad & iPhone. The iPad and iPhone have taken the world by storm.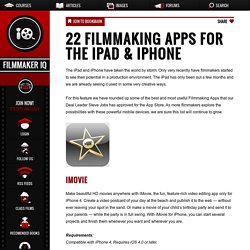 Only very recently have filmmakers started to see their potential in a production environment. The iPad has only been out a few months and we are already seeing it used in some very creative ways. For this feature we have rounded up some of the best and most useful Filmmaking Apps that our Deal Leader Steve Jobs has approved for the App Store. As more filmmakers explore the possibilities with these powerful mobile devices, we are sure this list will continue to grow. Weebly - Create a free website and a free blog. Prezi - The Zooming Presentation Editor. Voki Home. Socrative | Student Response System | Audience Response Systems | Clicker | Clickers | Student Clickers | ARS | Mobile Clicker | Software Clicker. Create your own songs. Goanimate.
Glogster.
---